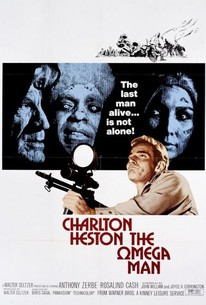 The Omega Man
1971, Sci-fi, 1h 38m
33 Reviews
10,000+ Ratings
What to know
critics consensus
It may not live up to its classic source material, but The Omega Man transcends its limitations often enough to offer some mildly entertaining post-apocalyptic thrills. Read critic reviews
Where to watch
Rent/buy
Rent/buy
Rent/buy
Rate And Review
Movie Info
Led by a former TV newscaster (Anthony Zerbe), light-sensitive mutants stalk the last normal man (Charlton Heston) on Earth.
News & Interviews for The Omega Man
Audience Reviews for The Omega Man
[img]http://images.rottentomatoes.com/images/user/icons/icon13.gif[/img]

It's obvious that "The Omega Man isn't a great film. Charlton Heston overacts most of the time; Boris Sagal's direction is dated as all hell; the one-liners are cheesy in an annoying sort of way; and the villains look and act like complete idiots. On top of that, it shares little with the novel it was based upon other than a lead character with the same name and a similar premise. But as average as it is, there's a slight charm to it. It's that kind of mindless action flick that you know is gonna be bad even before watching it, but when the end credits start to roll, you can't help but admit that your expectations were slightly exceeded. It has a watchable and adventurous quality to it that most other films don't have, and it's also noticeable how much of an influence it's had on other films in the science-fiction genre. Sure, "The Omega Man" isn't what I'd call excellent cinema, but it's an easy watch.

Charlton Heston is...The Omega Man. In this adaptation of a Richard Matheson novel the world population has been wiped out by chemical warfare, leaving behind a new race of mutants that seek to eradicate the last remnant of humanity; former military scientist Robert Neville. The script is written quite well, and puts a new and interesting spin on the material. And, Heston gives a strong performance that elevates the film. The '70s aesthetic can be a bit distracting at times, but it also gives the film a camp and a retro feel that's kind of fun. The Omega Man is a classic science-fiction film that's full of action but also explores the social issues of its time.

Something about 70's films, where it just doesn't seem like they take anything seriously.... including the writing. This starts out as a great film, and actually is not only a great "zombiepocalypse" movie, but also the ghouls are scary because of their cult mentality. This fight between the remnants of humanity and the maniacal medieval ghouls keeps up through the end of the movie, and then it just rapidly decays, not unlike the movies quick acting plague. When Lisa suddenly turns ghoul and loses her tough girl attitude only to become a useless pawn in the game between Mathias and Neville, the movie gets stupid. When Neville lasts for hours after getting a spear thrust into his chest so that he can hand the serum off to the future, the movie gets stupid. When they're playing upbeat music as Neville dies in a bloody fountain, the movie gets stupid. The real question is, how can the director not see this? Because he was making a cheesy 70's movie. Too bad.
See Details