One-Eyed Jacks
(1961)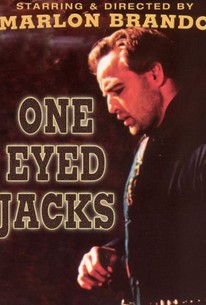 Movie Info
In this western, bandit Marlon Brando is betrayed by his partner Karl Malden. Released from prison, Brando learns that Malden has become a wealthy and influential lawman. Brando thirsts for revenge but bides his time, waiting for the right moment to strike.
News & Interviews for One-Eyed Jacks
Critic Reviews for One-Eyed Jacks
Audience Reviews for One-Eyed Jacks
Overlong western, by about an hour, but not without interest. Katy Jurado gives the film's best performance.
Who's supposed to be the good guy here? Marlon Brando directs (his one lone directing credit) and stars in this mexican-american western. As the movie opens, Rio (Brando) and Dad (Karl Malden), a pair of bandits, are cornered up on a hill by Rurales. Dad sneaks off to get fresh horses, but winds up abandoning Rio to the law, and he does 5 years of hard time in a Sonora prison. When Rio next catches up with Dad, Monterey, California, and Dad is living the fat life as the elected sheriff with a new wife and adopted daughter. Even though Dad has moved on and Rio has not, neither man is willing to forgive and forget the past. For Dad, it's fear and guilt that fuel his hatred of Rio; for Rio, while it's true he has a strong desire for justice, there is perhaps a certain amount of jealousy and resentment that people around him change while he stays the same. While Rio is obviously a tough guy and a expert gunslinger, he's rendered ineffectual for most of the movie by the powers that be. There is an air of authenticity to One-Eyed Jacks, from Bob Amory's greasy face (Ben Johnson did an excellent job here as one of the few characters who was actually true to himself) to colloquialisms that sounded genuine in the old west setting. From Karl Malden and Ben Johnson, to Larry Duran (Rio's mexican partner) and Pina Pellicer (Rio's love interest, Louisa- an enchantingly unique beauty whose life was cut short in real life by depression and suicide), Brando the actor steps aside as Brando the director fleshes out these characters and gives his actors a chance to shine. It's all brought together with great story-telling. There are some truly great westerns that have been made throughout the last century, the lesser known One-Eyed Jacks deserves to be counted among the best.
Devon Bott
Super Reviewer
Starts out pretty good, then slows down, and then picks up toward the end. I've never been a big fan of Brando in sympathetic sort of roles, but this was just ok.
Tim Salmons
Super Reviewer
One-Eyed Jacks Quotes
| | |
| --- | --- |
| Kid Rio: | You're a one eyed jack around here Dad |
| Kid Rio: | You're a one eyed jack around here Dad. |
| | |
| --- | --- |
| Kid Rio: | Get up you scum sucking pig! I want you standing when I open you up. |
| | |
| --- | --- |
| Kid Rio: | Get up, ya big tub o' guts! |
| | |
| --- | --- |
| Bob Emory: | They're enough scattergun down to start war, besides it might do him some good to get rid of some of that snotnose! |