Only Human (Seres queridos)
(2006)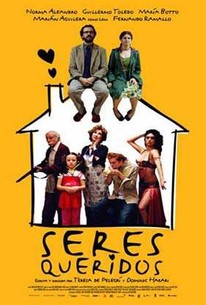 Only Human (Seres queridos) Photos
Movie Info
Surgen locuras cuando una mujer (Marián Aguilera) invita a su novio palestino (Guillermo Toledo) a conocer a su familia judía.
Critic Reviews for Only Human (Seres queridos)
Audience Reviews for Only Human (Seres queridos)
Definitely an entertaining comedy with solid writing and a great cast. But it's another movie that ends up peaking way too early. It's also another movie that thinks it's more clever than it actually is, and at the same time the characters end up reading like something out of a more adult sitcom. There's no real character progression, with the exception of the mother and the father's relationship and Rafi and Leni's eventual 'discussion' about Jewish and Palestinian issues at the end. And this scene is another thing I have an issue with. It's left until the very end of the movie, so the movie is pretty much a build-up to that moment but when they finally have it, the conversation ends up feeling so forced and contrived that it may have been better if they just left it off. It was a good idea, but it just didn't work in execution. And, again, I liked this movie. It was fun to watch, it had funny moments, though, again, I think the movie tries too hard to be funny. It has a great cast and good enough writing that the movie is still good in spite of all the problems I had with it.
Jesse Ortega
Super Reviewer
½
A good portion of this movie was just wacky fun! It is chock full of unusual situations, and funny characters. But then it tends to go overboard on the "crazy and funny" family situations...too the point of stupid, not funny. HOWEVER, the movie as a whole is definitely worth checking out. There are some hysterical situations that I will remember for some time.
Cynthia S.
Super Reviewer
½
This is a great movie. Absolutely hilarious! Fantastic story plot. Good cast. Definitely worthy.
Only Human (Seres queridos) Quotes
There are no approved quotes yet for this movie.