Open My Heart
(2004)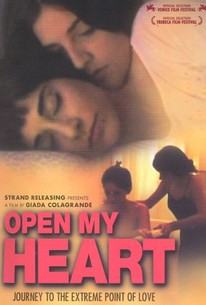 Movie Info
Directed by Giada Colagrande, Aprimi II Cuore follows the obsessive and sometimes incestuous relationship between sisters Caterina (Colagrande) and Maria (Natalie Cristiani). Caterina, 17-years-old and shy, loves the arts and takes comfort in listening to music while her sister, a prostitute, entertains her nightly host of clients. Living in the apartment becomes harder with each passing day, as Maria is only allowed to leave to go to dance class. Despite Maria's efforts, Caterina falls for her dance teacher, Giovanni (Claudio Botosso), and series of perverse situations present themselves as the siblings compete for his attention.
Critic Reviews for Open My Heart
Audience Reviews for Open My Heart
½
A fairly disjointed look at two sisters, obsessed with each other, without parental authority, who indulge in some pretty bizarre behavior. The older girl, Maria (Natalie Cristiani), turns tricks in their small apartment with a roster of regular clients. The younger sister, Caterina (Giada Colagrande, who also wrote and directed), studies at home and is socially isolated. Caterina falls under the spell of a janitor (not an instructor) at her dance school, the older Giovanni (Claudio Botosso). When their affair is discovered, Maria reacts in a most sinister way, even though she had been complicit in its start, It is at this point that the story veers off into la-la land. Plenty of full and partial nudity, and disturbing sex scenes, but this viewer prefers his steam to have light as well as heat. This certainly lacked rationality to the point that any positives were lost on this viewer.
Mark Abell
Super Reviewer
Open My Heart Quotes
There are no approved quotes yet for this movie.