Orgasm, Inc.
(2011)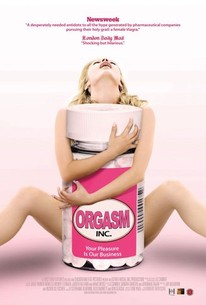 Movie Info
Liz Canner's shocking yet entertaining documentary ORGASM INC. explores the strange science of female pleasure, and in the process reveals the often warped mentality of our pharmaceutical and medical industries. ORGASM INC. begins when filmmaker Liz Canner is hired to edit erotic videos to be used in a drug trial for a pharmaceutical company. Her employer is developing what they hope will be the first FDA approved "Viagra" drug for women that will treat a new disease: Female Sexual Dysfunction (FSD). Intrigued, Liz decides to make a movie about the science of female pleasure. But she soon begins to suspect that her employer, along with other medical and pharmaceutical companies, might be trying to take advantage of women (and potentially endanger their health) in pursuit of profit. With unique access and a deft style of interviewing, Liz embarks on a nine year odyssey as she follows pharmaceutical companies and medical device manufacturers who are racing to be the first to win FDA approval for their product - be it pill, patch, nose spray, or some other delivery device. The promised cure: "normal" sexual function and orgasm. The prize: billions of dollars in profits. Despite its serious agenda, Canner brings wry humor to her film. Featuring illuminating footage and interviews with activists, doctors and medical experts (including Chicago-based sex therapist Dr. Laura Berman, whose new show will debut on the Oprah Winfrey Network), ORGASM INC. is a powerful, timely and, yes, entertaining look inside Big Pharma and other medical companies with their often misleading marketing campaigns that literally and figuratively reshape our everyday lives. Upbeat, engaging, enlightening, and provocative, ORGASM INC. will change the way you think about sex. -- (C) First Run Features
News & Interviews for Orgasm, Inc.
Critic Reviews for Orgasm, Inc.
Audience Reviews for Orgasm, Inc.
½
As insightful as the documentary "Orgasm, Inc" is at times, it should also come as no surprise that pharmaceutical companies are mostly just interested in profits. In fact, they are willing to invent illnesses, just to create patients from healthy people, in this case, Female Sexual Dysfunction. This turns out to be another episode in a long cycle in the misunderstanding and mistreatment of women that goes back centuries.(And I'll bet you thought "Hysteria" was just joking.) Documentarian Liz Canner enters the picture when she is hired by Vivus to develop erotic videos for their clinical trials of a female viagra they are trying to develop.(It's a tough job but somebody has to do it.) That seems to be the most benign solution to this non-existent problem, with none lacking any serious side effects. The truth of the matter, smartly explained here, is that there is no problem because there is no normal, with everybody being wired differently. Actually, porn works. Or we could just get rid of religion.
Orgasm, Inc. Quotes
There are no approved quotes yet for this movie.