Otoshiana (Pitfall)
(1962)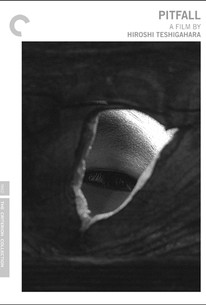 Movie Info
Mysterious goings-on twist and turn this effective but slightly uneven drama of murder and intrigue into a Gordian knot, skillfully woven by director Hiroshi Teshigahara. One day an impoverished miner is taken aback when he notes that he is being followed around by some stranger dressed in white. He and his son run away from the haunting vision, and the miner eventually gets sent on a job to a specific village. When he arrives with his son, he discovers that there is only one woman living in the village and suddenly the man in white shows up and murders the miner. His son witnesses the act but is not seen himself. Then the killer pays off the woman to identify the murderer as a union leader, while the victim himself is passed off as a rival union leader -- whom he uncannily resembles. From that point onward, the plot thickens considerably as the two real union leaders start to investigate the tragedy. ~ Eleanor Mannikka, Rovi
Critic Reviews for Otoshiana (Pitfall)
Audience Reviews for Otoshiana (Pitfall)
Directed by Hiroshi Teshigahara ("Woman in the Dunes"), "Pitfall" is a strange, genre-bending drama mixing murder conspiracy, the supernatural and labor-union disputes. The film's twists and story arc are so unconventional that a review shouldn't reveal much of the plot. Let's stick with the opening events: Hisashi Igawa plays an unnamed, vagrant miner who receives a mysterious offer to work in a village further down the road. When he arrives (with a young son at his side), the area is unexpectedly deserted. Meanwhile, a man in a clean white suit is tailing him, ominously snapping photos from afar. Why? If this sounds like an old "Twilight Zone" episode to you, you aren't so far off. The black and white cinematography feels similar, and the film's year (1962) even overlaps with the TV series' lifespan. "Pitfall" is a dusty, sweaty film loaded with tension, menace and unanswered questions. It also benefits from picturesque, rundown locations and a distinctive score that often sounds like someone banging the insides of a piano. The second half doesn't quite deliver on the premise's potential, but the scenes have a gripping, existential atmosphere similar to "Woman in the Dunes" (but with a thinner sense of allegory).
Eric Broome
Super Reviewer
Teshigahara's first fictional feature film is overflowing with metaphoric symbolism and imagery. Though this doesn't seem to flow as smoothly as Woman in the Dunes or The Face of Another, the same genius is abundantly apparent.
Randy Tippy
Super Reviewer
Maybe my expectations were to high, but I just didn't feel it..
Otoshiana (Pitfall) Quotes
There are no approved quotes yet for this movie.