Out for a Kill
(2003)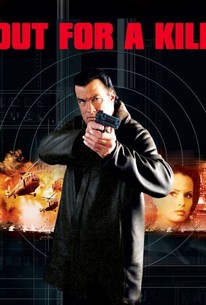 AUDIENCE SCORE
Critic Consensus: No consensus yet.
Movie Info
Action star Steven Seagal re-teams with filmmaker Michael Oblowitz, director of Seagal's recent film The Foreigner, for this international thriller. Seagal plays an archeologist who suddenly finds himself out of favor with the Chinese mafia after he uncovers a drug smuggling scheme. Framed by the gangsters for a crime he didn't commit, Seagal emerges from prison with vengeance in mind. Out for a Kill co-stars Michelle Goh and Corey Johnson.
Rating:
R (violence)
Genre:
Directed By:
Written By:
In Theaters:
On DVD:
Runtime:
Studio:
Sony Pictures Home Entertainment
Critic Reviews for Out for a Kill
All Critics (3) | Fresh (0) | Rotten (3) | DVD (7)
...Seagal's expanding size requires him to use a stunt man during such moments, and the switch from Seagal to stunt guy couldn't possibly be more obvious...

Even what should be the focal point of a 'Steven Seagal movie' (i.e. the punching of throats) is delivered in a style so shoddy that it boggles the mind.

Audience Reviews for Out for a Kill
½
After witnessing the horrible disaster that was Against The Dark, it made me instantly wary of newer Steven Seagal films. Thankfully, Out For A Kill delivers what I would hope from a Steven Seagal flick. It's pure cheesy nonsense (Seagal as an archaeologist? Really?), but thanks to awesome action scenes and solid direction, Out For A Kill proves itself to be a fun little action film. If you enjoy Seagal's action flicks or you like stupid action films in general, this one should get the job done for you.
Keenan Sullivan
½
Framed on a drug-smuggling charge, an Archeology professor lands in a Chinese prison and is released only to be targeted by the henchmen who set him up. I don't know why Steven Seagal continues to make films in cinema. It's like everytime he releases a new "adventure", his intelligence dwindles because of the need for philosophical dialogue. Even his accent is getting more indecipherable; now to a near-whisper, proving the need for the subtitle option in the Menu section. It would have been a better idea if the film was released with dubbed voices, or maybe in another language altogether; only to completely remove any trace of Seagal's tone. Furthermore, the choreography is elementary, proving that Seagal has already reached that level where his best days were in the eighties. His movements are stiff, over-weight and unbearable to the point of ripping off one's eyelashes. Why I even watched this film to the end is beyond me. I guess I was hoping that maybe this film would stop emitting a foul-smelling odor. The production, however; was surprisingly good, with a crisp presentation and nice scenic backgrounds. But once Seagal and friends appeared on screen, the film plunged into a downward spiral of utter crap. There are no standout performances here; feeling like the cast was pulled right off the street to act out their scenes in a whopping three days; breaks included. Kata Dobo, who played his wife Maya, also couldn't save this film with her rather quick topless scene. If anything, that scene only further hurt the film by showcasing it as a re-enactment in one of those FBI documentaries; she removed her shirt and they hug, with Seagal literally patting her back like a friend. The random narrative dialogue from Michelle Goh seemed to also come in at useless points of the film; blurting out lines that we don't care to know. It's perplexing how Steven Seagal still has a loyal fan base after releasing horrid films after another. The Glimmer Man was probably the last decent film Seagal had performed in and even then, Keenan Ivory Wayans stole the spotlight. The string of straight-to-video releases that Seagal puts out on an annual basis is trite, obnoxious and should be stopped right now. Out For A Kill, you are horrible.
Rob Cisneros
i don't really understand this movie, and I don't really understand any of the plot other than Seagal has to kill some Asian drug dealers. The action in this movie reminds me of Seagal in the 90's which is really the only reason I'm giving it a positive.
Dutch Vandar
Out for a Kill Quotes
There are no approved quotes yet for this movie.