Patriots Day
(2017)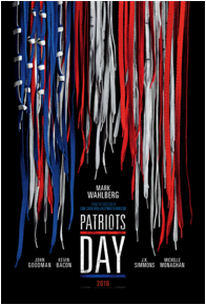 TOMATOMETER
AUDIENCE SCORE
Critic Consensus: Patriots Day offers a stirring, solidly crafted tribute to the heroes of a real-life American tragedy without straying into exploitative action thriller territory.
Movie Info
An account of the Boston Marathon bombing, PATRIOTS DAY is the powerful story of a community's courage in the face of terror. In the aftermath of an unspeakable attack, Police Sergeant Tommy Saunders (Mark Wahlberg) joins courageous survivors, first responders and investigators in a race against the clock to hunt down the bombers before they strike again. Weaving together the stories of Special Agent Richard DesLauriers (Kevin Bacon), Police Commissioner Ed Davis (John Goodman), Sergeant Jeffrey Pugliese (J.K. Simmons) and nurse Carol Saunders (Michelle Monaghan) this visceral and unflinching chronicle captures the suspense of one of the most sophisticated manhunts in law enforcement history and celebrates the strength of the people of Boston.
News & Interviews for Patriots Day
Critic Reviews for Patriots Day
Audience Reviews for Patriots Day
½
Patriot's Day is an attempt by director Peter Berg to turn the Boston Marathon bombing and the subsequent manhunt into a drama-thriller. And it results in an average and borderline flaccid movie with no real bite or purpose. I've come to conclusion that all hints of art and nuance have left Berg's movies, which leaves us with fairly boring takes on cops, soldiers, and blue collar professionals. To be fair, there are moments of brilliance. The buildup to the Marathon bombing itself is well-filmed and the immediate aftermath of the carnage was tastefully done. But the rest of the movie lacks energy or any interesting hook to care about after the credits roll. It plays out exactly as you'd expect. I didn't find it as jingoistic or filled with retrograde xenophobia as many have accused - it doesn't have enough of a stamp or artistic signature in either direction to warrant such an accusation. Mark Wahlberg plays the same boring cop he does in half his movies, and he's upstaged by John Goodman's BPD Commissioner and Kevin Bacon as a no-nonsense FBI investigator. Alex Wolff also deserves some credit for a creepy portrayal of Dzhokhar Tsarnaev - the current face of domestic Islamic terrorism. Lastly, J.K. Simmons is still winning at life as a salt-of-the-earth policeman who really should have been the main character of this picture. In summation, give it a pass. It's not a terrible movie, but Patriot's Day is guilty of another crime - being too boring or un-notable to remember a week later.
Joshua Sheetz
Super Reviewer
½
The Boston Marathon, a subject that could have easily been mishandled, was taken into the arms of Peter Berg in Patriots Day. One element that made it work so well and hit so emotionally hard is the laser focus on the characters. The film opens with several small storylines, all of which eventually converge into a crazy set of real-life events (many of which I wasn't aware of). Mark Wahlberg is yet again typecasted as the thickly-accented Boston hero. The only difference is, it's a surprisingly emotional and strong performance; one of his best to date. One of my favorite scenes is when an entire motorcade of FBI agents, led by the ultimate badass Kevin Bacon, arrives on scene. There is an alarmingly loud silence as he takes his time to observe the chaos just unfolded moments ago. Berg also has a knack for relentless and accurate depictions of violence (previously proven in Lone Survivor), particularly in the gunfights and disturbing amounts of gore. Trent Reznor and Atticus Ross hit a home run with the soundtrack. I can't remember the last time I found myself cheering for law enforcement as if they were my favorite sports team. Even though the bombing was 4 years ago, the subject is more relevant than ever. It reminds us that even though America is divided, we always manage to come together and help each other in times of chaos.
Kevin Mozulay
Super Reviewer
True stories have been around on the big screen for a very long time. Some do poor job and overdo the sappiness of the events and others an impeccable job in capturing the essence of the story. Patriots Day represents the latter. While it's very hard to say you loved a film like this, I can say in confidence that this is a great film that pays tribute to this very touchy event. When I first heard this film was in development, I found myself worried, especially with the notion of Peter Berg directing. At one point, this career felt as though it was going in the route of Michael Bay, especially when he helmed the laughable Battleship. When Lone Survivor was unleashed unto the world, followed by 2016's Deepwater Horizon, it was clear that he had found his niche. Patriots Day is just as effective as it needs to be. On April 15th, 2013, two men entered the crowds surrounding the Boston Marathon. Setting off multiple bombs, resulting in death and dismemberment, along with emotional scars, this truly was an incredibly sad moment in recent history. Displaying these events on screen must have been very hard to plan out, but they made the proper decisions in the end. Cutting back and forth between the film, recreated security footage, and actual security footage of the event, the emotion was cranked up to eleven. Most films choose to have overblown action set pieces to make the true event more extravagant for the cinema, but Patriots Day is very classy about what is displayed on screen. There are certain things that the news chooses to leave out and while I did follow the news when this tragic event took place, I don't remember hearing about the aftermath, except for the fact that they found the two men. I had no idea that they shot police officers and threatened the lives of innocent civilians along the way. It should come as no surprise, given the fact that these men have to be crazy in general to even start something like this, but there were quite a few moments throughout this film that I wasn't expecting. Treating this story with care, this film slowly goes through every motion of the five day span that it took to capture these men. I highly commend the way this film showcased everything. When exploring such a tragic incident, a film needs to be able to keep its audience at ease. No, I'm pretty positive that there was no amount of comedy circling this event, but as far as films go, a bit of levity is needed, so it doesn't become overly depressing. Hiring actors and actresses like Mark Wahlberg, John Goodman, J.K. Simmons, Kevin Bacon, and Michelle Monaghan certifies that the film is going to everything it can to deliver this story in a caring way. Having said that, them also being the talent cast that they are, are able to provide a few chuckles for the audience, while still having their eyes well up with sadness. The emotion in Patriots Day is balanced wonderfully. In the end, Patriots Day is a very solid film that depicts the tragic events of the 2013 Boston Marathon bombings in a very classy way. Very much like Deepwater Horizon, it very precisely goes through the motions of the event and makes you care about each and every character. As far as story, there is no conceivable way that it can lack in story, due to the nature of the premise at hand, but it does feel more like a dramatization at time, rather than a Hollywood picture. There is something very stagey about this film that I just can't get out of my head. That bothered me throughout the duration, but there is no denying that the performers took this material very seriously and Peter Berg took great care in his direction here. Patriots Day is just about as perfect as you can get in putting this particular story on the big screen. Whether you are aware of the terrorism that went on this day in history or not, this is an important picture that I definitely recommend checking out. Very, very well made.
Patriots Day Quotes
There are no approved quotes yet for this movie.
Discussion Forum
Discuss Patriots Day on our Movie forum!