Patriots Day
(2017)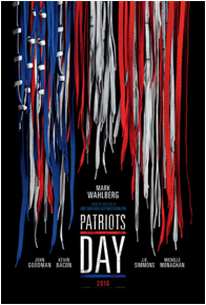 TOMATOMETER
AUDIENCE SCORE
Critic Consensus: Patriots Day offers a stirring, solidly crafted tribute to the heroes of a real-life American tragedy without straying into exploitative action thriller territory.
Movie Info
An account of the Boston Marathon bombing, PATRIOTS DAY is the powerful story of a community's courage in the face of terror. In the aftermath of an unspeakable attack, Police Sergeant Tommy Saunders (Mark Wahlberg) joins courageous survivors, first responders and investigators in a race against the clock to hunt down the bombers before they strike again. Weaving together the stories of Special Agent Richard DesLauriers (Kevin Bacon), Police Commissioner Ed Davis (John Goodman), Sergeant Jeffrey Pugliese (J.K. Simmons) and nurse Carol Saunders (Michelle Monaghan) this visceral and unflinching chronicle captures the suspense of one of the most sophisticated manhunts in law enforcement history and celebrates the strength of the people of Boston.
News & Interviews for Patriots Day
Critic Reviews for Patriots Day
Audience Reviews for Patriots Day
½
Peter Berg is on fire. After putting out Deepwater Horizon a few months back, he's back directing Mark Wahlberg in another film based on a true story. This time, a film based on the 2013 Boston Marathon bombings. Easily one of the most emotionally powerful films of 2016. Patriots Day feels a lot like a documentary. Berg tackles the events leading up to and the aftermath of the attack with great detail. Because of the realism in which Berg displays the attacks, I found myself emotionally overwhelmed more than once within the first half an hour. We are shown a few dozen characters (almost all based on real-life people) across the entire city of Boston, and each of them feel important, unique, and most of all, real. Aside from Wahlberg's fictional character who occasionally gets involved a little too heavily in the search for the bombers, each character feels like a real human being that is experiencing these horrific events. To me, that is the most impressive feat Patriots Day accomplished. Whether it's a police sergeant buying his wife a muffin before heading to work, an MIT officer asking a girl out to a Zac Brown Band concert, or a young couple arguing about how to correctly pronounce certain words in the 'Boston way', this film was filled with real people. These nuances gave the audiences an easier 'in' to the story and characters than I could have imagined. Having a film focusing on this many people is an extremely difficult task, and Berg did a nice job encapsulating all sides of the story. With that said, I think all of the different angles catches up with the film after a while. I was always invested in the story, but I can see where audiences may think the movie wanders. I myself, appreciate how much this film covers, but the fact that it actually takes the time to focus on the bombers could turn some people off. I would have a hard time ever trying to understand the reasoning behind these attacks, but Berg did at least make the terrorists more than just someone with a trigger. You got to see their own real-life problems at home and with each other. Even though I can't help but think terrible thoughts when I see them on screen, I like that there is at least a small arc to them. Patriots Day has a lot going on, and even though it may appear to be counterproductive to show this many sides, it proved to be beneficial for me to see all these different sides to Boston. I felt like these actors weren't really acting, and instead were real people fighting to survive in a time where surviving was all that really mattered. Just as I said with Sully in 2016, Patriots Day is a tribute to how well we work as a species when we work together. The power of the human spirit is not to be trifled with. +Performance of the ensemble +Emotionally heartbreaking about 20 different times +Covers so much ground 9.0/10
Thomas Drufke
Super Reviewer
In a world filled with terror, violence, and horrific events that unfortunately happen on a regular basis, Peter Berg brings us a film dedicated to showing us how we, as humans, respond and react to these events, and how we come together and bond as one species over how precious our lives are and how important peace is. Patriots Day explores the events and the effects surrounding the 2013 Boston Marathon bombings, an event that, for most of us, is still fresh in our memories; and an event that, for some people, continues to affect their lives today. Thankfully, the film handles its source material gracefully and skillfully, delivering an emotional, thrilling, and intense cinematic experience. Patriots Day features an ensemble cast including Mark Wahlberg (a frequent collaborator with Berg), John Goodman, Kevin Bacon, J.K. Simmons, and Michelle Monaghan, as well as many more, lesser-known actors who play real-life characters that are just as important and affecting in their roles. Wahlberg plays Sergeant Tommy Saunders, a BPD officer who is present at the scene of the Boston Marathon bombings and one of the first responders in the incident. He, along with the other big names that he acts alongside with, does a fantastic job in the film portraying someone who is emotionally driven after the events of the bombing to hunt down the perpetrators and seek answers for the distressed public. His character (who I'm still not sure is real or fictional) carries the movie well, and he delivers a great performance. However, the people that really surprised me in the film were the smaller, less important roles that abounded throughout. While I can't say much about these roles without spoiling things, I can say this: their inclusion in the story may seem unnecessary and a means to distract from the main events, but they really do a good job of solidifying the emotional effectiveness of a lot of the film and of conveying the message that Berg is obviously trying to convey: that in times of crisis, people find bravery in small places and bond over little things, and everyone works together to seek justice and answers for wrongs that have happened. Every actor in the film, big and small, did a stellar job in conveying the real-life events of the bombings, and I applaud them. Again, I can't say a whole lot about Patriots Day without ruining the best parts of the film, but another thing I CAN say is that it also does an amazing job of accurately portraying everything that happened in 2013 surrounding the Marathon. It does so thrillingly, providing an entertaining and nail-biting ride through the actual bombing all the way to the end of the manhunt for the Tsarnaev brothers. The long scene that portrays the bombing, for instance, effectively blends film footage with real footage back from 2013 and gives a respectful, yet also hard-to-watch, look at how awful the casualties and terror after the explosions actually were. It also gives big nods to the unsung heroes and the everyday person. It's all awesome. In short, Patriots Day is everything I would want from a movie about the Boston Marathon bombings. It's accurate, informative, well-acted, thrilling, emotional, respectful, and overall a phenomenal film. It uses its source material to deftly craft a strong story and a powerful message about our human condition. And trust me, watching it will make you thankful for your life and your friends and your country... it's powerful. Patriots Day gets a well-earned 5 stars, and I strongly recommend to take your extra day off this weekend to go see it.
Paul Fuchs
Super Reviewer
True stories have been around on the big screen for a very long time. Some do poor job and overdo the sappiness of the events and others an impeccable job in capturing the essence of the story. Patriots Day represents the latter. While it's very hard to say you loved a film like this, I can say in confidence that this is a great film that pays tribute to this very touchy event. When I first heard this film was in development, I found myself worried, especially with the notion of Peter Berg directing. At one point, this career felt as though it was going in the route of Michael Bay, especially when he helmed the laughable Battleship. When Lone Survivor was unleashed unto the world, followed by 2016's Deepwater Horizon, it was clear that he had found his niche. Patriots Day is just as effective as it needs to be. On April 15th, 2013, two men entered the crowds surrounding the Boston Marathon. Setting off multiple bombs, resulting in death and dismemberment, along with emotional scars, this truly was an incredibly sad moment in recent history. Displaying these events on screen must have been very hard to plan out, but they made the proper decisions in the end. Cutting back and forth between the film, recreated security footage, and actual security footage of the event, the emotion was cranked up to eleven. Most films choose to have overblown action set pieces to make the true event more extravagant for the cinema, but Patriots Day is very classy about what is displayed on screen. There are certain things that the news chooses to leave out and while I did follow the news when this tragic event took place, I don't remember hearing about the aftermath, except for the fact that they found the two men. I had no idea that they shot police officers and threatened the lives of innocent civilians along the way. It should come as no surprise, given the fact that these men have to be crazy in general to even start something like this, but there were quite a few moments throughout this film that I wasn't expecting. Treating this story with care, this film slowly goes through every motion of the five day span that it took to capture these men. I highly commend the way this film showcased everything. When exploring such a tragic incident, a film needs to be able to keep its audience at ease. No, I'm pretty positive that there was no amount of comedy circling this event, but as far as films go, a bit of levity is needed, so it doesn't become overly depressing. Hiring actors and actresses like Mark Wahlberg, John Goodman, J.K. Simmons, Kevin Bacon, and Michelle Monaghan certifies that the film is going to everything it can to deliver this story in a caring way. Having said that, them also being the talent cast that they are, are able to provide a few chuckles for the audience, while still having their eyes well up with sadness. The emotion in Patriots Day is balanced wonderfully. In the end, Patriots Day is a very solid film that depicts the tragic events of the 2013 Boston Marathon bombings in a very classy way. Very much like Deepwater Horizon, it very precisely goes through the motions of the event and makes you care about each and every character. As far as story, there is no conceivable way that it can lack in story, due to the nature of the premise at hand, but it does feel more like a dramatization at time, rather than a Hollywood picture. There is something very stagey about this film that I just can't get out of my head. That bothered me throughout the duration, but there is no denying that the performers took this material very seriously and Peter Berg took great care in his direction here. Patriots Day is just about as perfect as you can get in putting this particular story on the big screen. Whether you are aware of the terrorism that went on this day in history or not, this is an important picture that I definitely recommend checking out. Very, very well made.
Patriots Day Quotes
There are no approved quotes yet for this movie.
Discussion Forum
Discuss Patriots Day on our Movie forum!