Phaedra
(1962)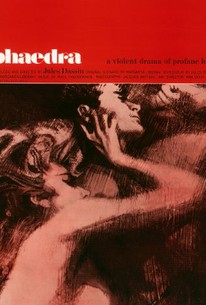 AUDIENCE SCORE
Critic Consensus: No consensus yet.
Movie Info
In this updated Greek tragedy, Phaedra (Melina Mercouri) has married a Greek shipping-tycoon. Her husband wishes for his son to come from London to learn about the family business. Alexis (Anthony Perkins) is the son who Phaedra visits in England to persuade him to comply to his father's wishes. Alexis and Phaedra have never seen each other before and fall madly in love at first sight. They try to fight the attraction, but desire gets the best of them as they fly off to Paris and carry out the illicit affair. Alexis is talked into coming back to Greece, but his father has arranged his marriage to the daughter of a rival shipping-magnate. Phaedra's passion for the boy cannot be hidden. She is violently opposed to the impending marriage and finally confesses her love for her stepson to her husband. The father proceeds to beat his son to a pulp, which is the beginning of the end for Alexis and Phaedra.
Critic Reviews for Phaedra
Audience Reviews for Phaedra
½
An oddity of a film, unknown and underappreciated. It is it uneven and can be easily misunderstood as simple melodramatic pomp. However that is a judgment that looses all the subtle details of the reworking of the myth. This film must be seen with keeping in mind the myth; and when seen like that, the feeling of 'melodrama' gives way to the power of archetypical emotions. Perkins excells with his frailty, Valone is very good in his somewhat straightforward, brutish role, and Melina Merkouri is uneven. Her acting is crude and her bad accent doesn't help (this can be forgiven, given that she plays a Greek), but she also has some truly sublime moments, especially when she has to express emotion silently. Her acting was always a bit rough around the edges but her raw energy sometimes, when not used as a simple pose of 'Greek temperament', makes her shine through her depth of emotion. The excellent soundtrack by Mikis Theodorakis has a great impact on the overall film. The main theme is magnificent and brings forth the element of the unavoidable end of love. I felt that the script could be better in characterizing the Perkins character and his exact motivations in the last part of the film. The direction of Dassin covers some problems of the script nicely with fluid camera movements and quite experimental rhythmic units at certain points, such as the odd love scene which can be seen as either indulgingly 'poetic' or as truly powerful (I think it is the latter; a very succesful scene which is bound to feel a bit strange due to its experimental nature). Overall it is not one of Jules Dassin's best, but it deserves to be seen and appreciated for its moments of greatness, intensity and beauty. Apart from these moments, as a whole, it fails to give a deeper interpretation of the myth.
George Matalliotakis
Super Reviewer
Contrary to popular opinion, I really liked this movie. I thought that Mercouri and Perkins roles were well acted. The music was perfectly suited to the mood of the film. Some of the shots and montage were memorably unique: the melding of water and fire during the love scene, the final sequence, etc.
Stefanie C
Super Reviewer
I liked Perkins in this movie, but the rest of the cast isn't as good. The story is interesting too, and the ending is good, but I would have ended it differently. Overall a good movie.
Phaedra Quotes
There are no approved quotes yet for this movie.