Pintu terlarang (The Forbidden Door)
(2009)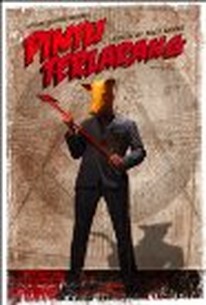 AUDIENCE SCORE
Critic Consensus: No consensus yet.
Pintu terlarang (The Forbidden Door) Photos
Movie Info
A man living a lie makes a shocking discovery in his search for truth in this thriller from Indonesian filmmaker Joko Anwar. Gambir (Fachry Albar) is an artist who on the surface seems to lead a charmed life -- he's been enjoying critical and commercial success and is married to lovely Talyda (Marsha Timothy). But Talyda's parents are bankrolling his posh lifestyle, he's struggling with impotence and a low sperm count, and when his struggle to have a child with Talyda finally bears fruit, she opts to have an abortion, and then demands Gambir place the fetus inside one of his sculptures. As Gambir struggles to make sense of his internal chaos, his friend Dandung (Ario Bayu) tells him about a secret club for people struggling with questions they can't answer. However, Gambir has a hard time articulating the mystery behind his agony, and he becomes convinced the key to it all lurks behind a locked door he's found in the basement of the mansion he shares with Talyda. Pintu Terlarang (aka The Forbidden Door) received its North American premiere at the 2009 New York Asian Film Festival. ~ Mark Deming, Rovi
Critic Reviews for Pintu terlarang (The Forbidden Door)
There are no critic reviews yet for Pintu terlarang (The Forbidden Door). Keep checking Rotten Tomatoes for updates!
Audience Reviews for Pintu terlarang (The Forbidden Door)
½
Another Indonesian gem, this time a horror/mystery. Sculptor with a yukky secret has a perfect, yet somehow unsettling life, made even more so when someone starts leaving him "help me" messages everywhere. A bit strong in places,and a bit puzzling tooo, though the story does become clearer as the film progresses. Keep watching even after the credits roll, because there's a last bit you need to see.
½
For a guy who's Indonesian movie knowledge consists of ludicrous sword and sandal films, crazy horror/action hybrids and insane mystic hijinks (mostly due to the awesome Mondo Macabro label) it was nice to see an Indonesian film that is actually trying to be insane. This is a stylish, well-paced and interesting film which has moments that are must see. Unfortunately, a lot of conventions that are "old hat" here in North America are probably not as cliche over there. Not to give anything away, but there are a few surprises that are somewhat letdowns. Also, though I don't speak Indonesian, I suspect our main character wasn't the greatest thespian. Now, in the movie's defense, the usually amazing Toronto After Dark Film Festival had serious problems during the screening of the film, which had it shutting down a few times. What made it harder to get back into the film was that the audience who is hooting and hollering during the breaks took a while to calm down and get back into the film. Laughter at bad subtitles and such. Or maybe I'm just an old curmudgeon. Regardless, it definitely did hinder the enjoyment of the film. I'll absolutely be watching this again and hopefully will be able to enjoy if for what it is and without interruptions. Still, despite the mediocre review, I would say this is a must see for people who enjoy adventurous, offbeat and bizarre cinema.
Christopher Brown
Super Reviewer
Pintu terlarang (The Forbidden Door) Quotes
There are no approved quotes yet for this movie.