Pistol Opera
(2001)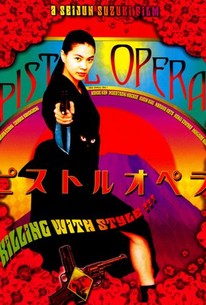 Movie Info
Japanese cult director Seijun Suzuki's combination sequel to and remake of his 1967 gangster film classic Branded To Kill stars Makiko Esumi as Miyuki Minazuki, AKA "the Stray Cat," a beautiful female assassin. She is number three in the hierarchy of killers in her criminal organization at the beginning of the film, but soon a battle breaks out among the assassins, all of whom are trying to become the number one killer by murdering their competition. Miyuki finds herself fighting her fellow assassins one by one, encountering along the way such eccentrically-nicknamed opponents as The Teacher, who is confined to a wheelchair, Painless Surgeon, a bearded Westerner who literally feels no pain, and Dark Horse (Masatoshi Nagase), who wears a blond wig and has a perpetual case of the sniffles. Also making an appearance is Goro Hanada, the hero of Branded To Kill (played in the original by Jo Shishido, but here by Mikijiro Hira), who becomes a mentor to Miyuki, and is now known as number zero. The film's skeletal plot mostly allows director Suzuki to develop elaborate visual tableaus that stretch the possibilities of narrative cinema.
Critic Reviews for Pistol Opera
Audience Reviews for Pistol Opera
Far too arthouse for it's own good...
Marcus Woolcott
Super Reviewer
In what seems to be intended as a fun, avant-garde romp, "Pistol Opera" is made up of sometimes nonsensical but lighthearted scenes featuring shootings and stabbings galore. This is Seijun Suzuki's followup to his 1967 film "Branded to Kill," a stylish film said to have been an inspiration to the likes of John Woo and Quentin Tarantino. Be that as it may, this film is no Pulp Fiction. It's meant for avant-garde buffs only. In the acting department, Esumi Makiko as the deadly Miyuki Minazuki, a.k.a. Killer #3, is wonderful. She plays her role convincingly, providing the emotional depth of someone who could die at any moment. A tough film to digest at first, it's perhaps the Japanese equivalent to a David Lynch film. Suggestive and original, it's a film that's in its' own creative world. I could liken it to watching a stage performance or play, but perhaps a little too pretentious for its' own good at times. Either way, if you're in the mood for something interesting, check it out.
El Hombre Invisible
Super Reviewer
WOW! Holy f****** cow! Alright, after seeing the trailer and hearing the title I knew I was expecting something out of the ordinary. Let me tell you, it really was something out of the ordinary. I've honestly seen some weird movies in my lifetime, but this film is near, if not the top of the "What the hell just happened?" pyramid. Nothing could have prepared me for this.
The concept of the story is interesting. If you didn't know anything about this film and you heard the synopsis you will most likely want to know more about this movie. With that said, this movie is ridiculously weird. Weird, weird, weird, weird, weird. I don't even know how to explain it. No one in this entire universe will ever be able to understand what is fully going on here. Maybe with a viewing of more than 10 times then just maybe will it be possible. This movie just jumps around way too much.
The thing with this is that although you will only be able to grasp a little bit of what is going on, you still will not become bored because this movie moves very quickly for the most part. Not only that, but this movie is pretty stunning visually. It does have some nice cinematography as well as some colorful set and costume designs. Not to mention the unusual dialogue. This saves the film from becoming a complete disaster.
I don't even know how to rate the acting in this film. I might be inclined to say that it was pretty good, but the way that this movie was, I just truly don't know. Makiko Esumi is beautiful though.
You want to know about the action? Well there is quite a bit of gun play in here, but I don't know if I would consider the shootouts action scenes. They are more of a theatrical dance if I may call it that.
I've heard this movie being defined as "fun and entertaining." I can certainly see why, but I feel that only a few people may find it that way. It definitely has style, but it is just too "out of this world." I would say that 90% of the population is not ready for this.
Pistol Opera Quotes
There are no approved quotes yet for this movie.