The Plot to Kill Hitler
(1990)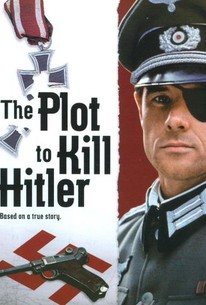 AUDIENCE SCORE
Critic Consensus: No consensus yet.
The Plot to Kill Hitler Videos
The Plot to Kill Hitler Photos
Movie Info
Inspired suave aristocrat Col. Claus von Stauffenberg's ingenious plot to assassinate Adolf Hitler during the waning days of World War II, director Lawrence Schiller's historical war drama traces the remarkable events that unfolded as the Third Reich's Operation Valkyrie emergency plan was implemented on July 20, 1944. Could World War II have been stopped before the bombings of Hiroshima and Nagasaki? A group of senior army officials have decided to turn on their führer, but is their plan doomed from the very moment of conception? A strategy meeting is set to take place at Hitler's Wolfsschanze (Wolf's Lair). There, the tyrannical German leader will be completely vulnerable to attack by the very people he trusts most - his own officers. In order to succeed, von Stauffenberg and his men will need to make some serious sacrifices. Later, as the plot gets underway, fighting continues raging all across Europe, and the men wait patiently for the perfect moment to strike.
Rating:
NR
Genre:
,
Directed By:
Written By:
In Theaters:
On DVD:
Runtime:
Studio:
Cast
Critic Reviews for The Plot to Kill Hitler
There are no critic reviews yet for The Plot to Kill Hitler. Keep checking Rotten Tomatoes for updates!
Audience Reviews for The Plot to Kill Hitler
The Plot to Kill Hitler directed by Lawrence Schiller written by Steven Elkins starring Brad Davis, Madolyn Smith Osbourne, Ian Richardson, Kenneth Colley, Michael Byrne, Helmut Lohner, Jonathan Hyde, Helmut Griem, Mike Gwilym In this made-for-tv 1990 film, a group of dissident officers conspire to bring down Adolf Hitler in the hope of avoiding more bloodshed and Germany's ultimate total surrender. The story focuses on the intention to remove Hitler from power and put into a place a nominal government with the intentions of working with the Allies whom they hoped would not be overly harsh in their reprimands. It also deals with the home life of a key conspirator in the operation, an aristocratic officer named Count Claus von Stauffenberg, his wife Countess Nina, and their three children. The plot is complicated and involves the perfect execution of a number of maneuvers that were required to see it to fruition. The main conspirators are von Stauffenberg, General Olbricht (Byrne), General Beck (Richardson), Field Marshall Wilhelm Keitel, (Colley) and Axel von dem Bussche (Graves). Each of them play their part and the table is set to bring down the most powerful leader in the Western World. The film suffers slightly from the tenacity of its focus. There isn't much room for anything beyond the plot and the interactions between von Stauffenberg and his family. There are many moments of relief when vo Stauffenberg returns or when the bombs don't destroy the family's home. These are handled relatively well and the intentions toward the participants allow them to demonstrate legitimate emotional reactions to the troubling circumstances afflicting them. The war itself is not projected with any demonstrative urgency although it is felt tangentially in every frame. Count von Stauffenberg is eventually cast as an adversary to the Nazi regime and the film pushes through to showcase his trajectory from supporter to outright foe. There is a sense of doubt hanging over the film as the participants are none to certain that their attempt on Hitler's life will reap the rewards they intend. It is made known that there have been numerous such attempts and all of them have failed for various reasons. Hitler himself comments on these designs on his life and considers himself blessed by Providence and that it constitutes a sign that he is destined to succeed in his mission. This version of Hitler (Gwilym) is a jokester with a fiery temper who is shown to abhor meat and cigarettes. He seems fit, agile, and cantankerous; he's fully engaged in his power struggle and his designs for conquest. He is presented as a man of tremendous energy and ambition as well as being a bit fussy about his appearance. He wants to make sure that Il Duce approves of his trousers. Von Stauffenberg is a careful man who's exacting behavior sets up the exceedingly complex machinations to rid the world of the Führer. His movements are precise and controlled and his carriage is determined by the course he has set out for himself. The success of the plot lays on his shoulders because he has determined himself to be the most qualified to plant the bomb as he has the most direct contact with Hitler. Knowing the outcome it's still thrilling to watch as the film sets up the great moment where everything proceeding it comes to a head. The intrigue is handled with delicacy and care as each part of the puzzle is put into place. The film doesn't seem to come down on whether or not it would have been a good thing to have Hitler removed from the war equation. There is some dialog about it not effecting the Nazi machine at all because someone would simply emerge to take his place. The Nazis in this film are, as is often the case, filmed in such a way that they come off as vibrant, healthy administrators with a strict, methodical mien that allows them to relate strategically with the affectations adopted by every soldier. This is indeed a film that expresses several aspects of war and those who are responsible for perpetuating the necessity of it. Von Stauffenberg and his lot are the sole voice that decries the war effort and insists on taking brave and dangerous measures to do anything they can to put an end to it. In the context of the film their attempt is neither vilified or viewed heroically. It's merely the act of a number of desperate men who seized on an opportunity to potentially effect the entire outcome of the war. I suppose the "message" of this story which has been reinterpreted in several other versions, is that there was a resistance inside Germany comprised of individuals who denounced Nazism and sought to bring it to its knees by any means necessary. The scope of the endeavor is of course enormous and there were indeed many failed attempts to actualize the intention. Von Stauffenberg was simply one man with an undiluted passion for taking the necessary measures to ensure that Germany was not to be thoroughly raped by the inevitably victorious Allies. Overall, this is a cleanly devised film that highlights an exceedingly significant event at the height of WWII. It creates viable personalities on both sides of the dilemma and allows the viewer an insight into the ways that revolution can be struck as a guiding principal. The film effectively brings the essential conflict into clear focus through the intensely practical maneuverings of those dedicated to fostering what they hope to be lasting change for their country and its citizens. There is a very tangible sense in this film that Germany was at this time emphatically losing the war and that it wasn't long before they would be dragged into hell by the furious and vengeful Allied forces. There is a legitimate urgency in this film as the stewards of this decisive act realized that their window of opportunity was decisively narrowing and that they probably would not have another opportunity to carry out the deed.
Everett Jensen
Discussion Forum
Discuss The Plot to Kill Hitler on our Movie forum!
News & Features