The President's Last Bang
(2005)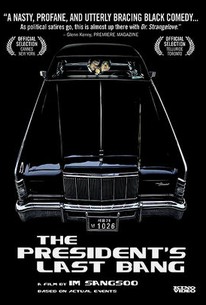 The President's Last Bang Photos
Movie Info
South Korean filmmaker Im Sang-su (A Good Lawyer's Wife) tackles the assassination of President Park Chun-hee (Song Jae-Ho) in his political satire The President's Last Bang. Im focuses on the internecine bickering and jockeying for position that took place among the dictator's closest advisors. Park was in the midst of a brutal crackdown on student protestors, angry workers, and others whom he saw as a threat to his regime. As the film opens, KCIA Chief Agent Ju (Han Suk-Gyu of Shiri) is getting rid of a hooker and her overzealous mother while President Park prepares for a banquet at his safe house with disgruntled KCIA Director Kim (Baek Yun-shik of Save the Green Planet!), Chief Secretary Yang (Gweon Byeong-Gil), and Chief Bodyguard Cha (Jeong Weon-Jung), who has already offended Ju and Kim with his malicious "office politics," and two charming young ladies, a well-known pop singer (Kim Yun-Ah) and a co-ed (Cho Eun-ji). Kim has just had an unhappy doctor's visit, and been told he's suffering from a bad liver and chronic fatigue. Apparently pushed to the breaking point, he enlists his underlings, Ju and Colonel Min (Kim Eung-soo) in a deadly plot. Im insists that while some of the dialogue was necessarily invented, his film tells the story of what actually happened on that historic night in 1979. Park's relatives, still politically active in the country's right wing, sued the filmmaker and successfully kept him from using archival footage of the president in the film's final cut. The President's Last Bang was selected by the Film Society of Lincoln Center for inclusion in the 2005 New York Film Festival. ~ Josh Ralske, Rovi
Critic Reviews for The President's Last Bang
Audience Reviews for The President's Last Bang
I was not familiar with the plot to knock off the Korean dictator Park Chung Hee. I'm not sure if that helped or hurt my viewing of this film but it kept me hooked. I was completely fascinated by the turns of events and the conclusion was fresh.
John Ballantine
Super Reviewer
Based on the assassination of Korean President Park Chung-hee, The President's Last Bang creates some controversy about the portrayal of the President himself.
Without question, the plot for this film is interesting and will grab a lot of people's attention. Unfortunately, the storytelling may only cater to certain people since the pace of this film is really slow. This is not an action movie by any means. It is more of a crime drama with a bit of dark humor. About 95% of this film takes place a couple of hours before the assassination, the assassination itself, and the few hours after the assassination.
It is the hours before the assassination that is a let down. The first 30 minutes of this film is a little political, boring, and at the same time may be a bit hard to grasp. It isn't until the 40 minute mark that the movie really picks up. The moments right before the assassination will hold your interest and so will the assassination itself. Not long after, the film drops back down into more of the political stage again.
As for the assassination itself it isn't a fancy shootout, but is rather a realistic execution. The only downside is that there isn't enough background in the beginning to show who is in on it. You don't really find out until the assassination is actually taking place.
The acting and cinematography are probably the best aspects of this film. Suk-kyu Han and Yun-shik Baek both lead off nicely with the supporting cast following behind.
The political aspect of this film is only for certain people, but it is still a decent watch if politics is not for you.
½
An unabashedly leftist take on a dark period in Korea's history. Set almost entirely on the day of President Park Chung Hee's assassination in 1979, the film is an all out attack on his regime, and paints the former president as a drunk with an unhealthy obsession with the Japanese. Politics aside, The President's Last Bang is an almost flawless work with cinematography that's a feast for the eyes and sound that's a treat for audiophiles. The dark humor is razor-sharp and distributed wisely, if unexpectedly. An almost mean spirited satire worthy of mention alongside Kubrick, Mamet and Altman.
El Hombre Invisible
Super Reviewer
The President's Last Bang Quotes
There are no approved quotes yet for this movie.