Pretty Poison
(1968)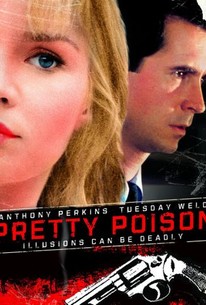 Movie Info
Easygoing but psychotic Dennis (Anthony Perkins) is released from jail, where he has served a sentence for his complicity in a suspicious death. Wandering through a small, working-class New England town, Dennis befriends apparently normal high school A-student Sue Ann (Tuesday Weld). He fills her head with lies about his imaginary career as a secret agent. She is thrilled, and makes up her mind to join him in his further adventures. This jet-black "who's manipulating who?" seriocomedy was adapted by Lorenzo Semple Jr. from Stephen Geller's novel She Let Him Continue. ~ Hal Erickson, Rovi
Critic Reviews for Pretty Poison
Audience Reviews for Pretty Poison
"Boy. What a week. I met you on Monday, fell in love with you on Tuesday, Wednesday I was unfaithful, Thursday we killed a guy together. How about that for a crazy week, Sue Ann?"
Stefanie C
Super Reviewer
½
Tonally sophisticated, and well crafted cult staple from Noel Black. It's a shame that films like Pretty Poison have faded into obscurity, but really, it is apropos that a film this misunderstood stars two leads that Hollywood never knew what to do with, the fabulous Anthony Perkins and Tuesday Weld. Mixing a bit of Lolita, with a dash of NIght of the Hunter and a TON of Gun Crazy, Black and company seamlessly shift between neo-noir, black comedy and straight forward surrealism. Perhaps what I like most about this film is that nothing is what it seems. One could be forgiven for believing the opening act was part of a badly-written comedy, probably because that is exactly what the writer wants you to think. Lorenzo Semple's tight script is slyly subversive both in its deceptively light treatment and in the manner in which it portrays small-town Americana (in much the same way that David Lynch would two decades later in Blue Velvet). He tells us that the white picket fences and pretty cheerleaders should never be taken at face value, because there is something rotten lurking beneath that all-American veneer -- but in true cult fashion, it has fun with that message, instead of taking itself too seriously. I'd be remiss if I didn't mention the performances. Perkins (as usual) is terrific. You can see the layers of confidence slowly peeling away as his and Sue-Ann's roles become inexplicably reversed and he finds himself sinking deeper and deeper out of his depth until he is a mass of sweaty, twitching nerves, blindly following orders, all pretence of control abandoned. Weld is also first class. She plays her character the same throughout, even when her true colors are revealed to us, and resists the temptation to display the usual tics and grimaces of movie-land's bunny-boilers. And lest I forget, Beverly Garland, the quintessential B-movie actress of her day, who also turns in the best performance of her career as the mother everyone can hate. All in all, it's a crime that Pretty Poison is so unknown. Now that it FINALLY got released on DVD, let's hope more people discover it.
Jonathan Hutchings
Super Reviewer
½
One of those rare cult gems that never seem to pop up when you need them, Pretty Poison is one solid piece of black comedy Americana. Featuring the sterling psychopath character actor, Anthony Perkins, and bubble blonde nymphet Tuesday Weld, this film never bores, never tries too hard to be introspective, and yet achieves perfection in doing so. The plot follows recently released (and obviously still perturbed) inmate Dennis Pitt (Perkins) who starts work at a chemical plant, and eyes band majorette Sue Ann (Weld). What follows is a labyrinth of utter informality, as Dennis leads Sue Ann astray by telling he's a secret agent, sent to stop poison from being released in the water supply. (Ironic since the pollution shown being dumped is a type of poison. Perhaps this was a green initiative.) Perkins has all the queer quirks he exhibited in his seminal best, Psycho, but also has a calm innocence that can only come from being slightly off your rocker and completely intent on bridging the gap between yourself and someone you're infatuated with. Instead of a screaming Janet Leigh, Tuesday exhibits this odd temperament of high school angst queen, beautiful and simplistic. She seems a mere pawn in Perkins game, working to fix the crimes of his past by committing more with his accomplice. As they go along, performing secret missions and falling in love in the span of a week, it's easier to see the aggressive side of Sue Ann emerge, and we soon come to believe that perhaps Dennis, the convicted felon, is the lesser of two evils. Bleak, black, and remotely sweet, Perkins comes off as a new type of insanity, a bittersweet manner and a loving and loyal approach. Weld, who at first seems the familiar blonde without purpose, transforms to become the central addiction and most complex character of the entire film. Certainly worth a view, and round of applause.
Spencer S.
Super Reviewer
Pretty Poison Quotes
There are no approved quotes yet for this movie.