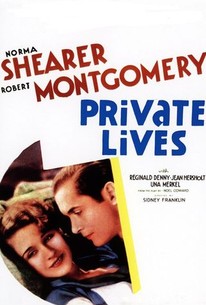 Private Lives
1931, Comedy, 1h 24m
5 Reviews
50+ Ratings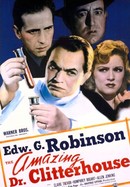 The Amazing Dr. Clitterhouse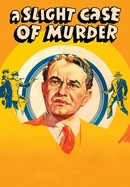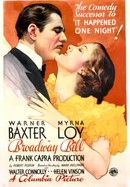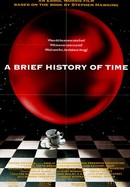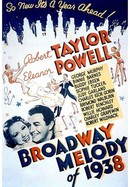 Where to watch
Rent/buy
Rent/buy
Rate And Review
Movie Info
Amanda (Norma Shearer) and her new husband, Victor (Reginald Denny), are on their honeymoon in Switzerland. As luck would have it, in the same hotel in a nearby room, enjoying his honeymoon, is Elyot (Robert Montgomery), Amanda's ex-husband, who just married Sibyl (Una Merkel). When Amanda and Elyot cross paths they realize they still care for one another. They quietly rendezvous, only to start bickering, leaving them both to wonder if being apart is just as impossible as being together.
Audience Reviews for Private Lives
'Private Lives' starts simply enough, with Norma Shearer together with her new husband after having been divorced from Robert Montgomery, and him together with his new wife. As fate (or playwright Noel Coward) would have it, they happen to end up spending their honeymoons in adjoining suites. I suppose you can imagine what comes next as their love is rekindled, but what happens beyond that is a little bit of a surprise. It feels like a 1931 version of 'Whose Afraid of Virginia Woolf?', though without the same weight. Shearer is natural and plays 'exasperated' well, but she overacts at others times, and Montgomery is similarly uneven. They do have some level of chemistry, and the best scene that has them worked up to near violence (her hitting him over the head with a record, him slapping her, her running to the couch to bury her head and kicking her legs) is probably the best of the movie, but even that has an air or ridiculousness about it, meaning it hasn't aged terribly well. Their co-stars, Reginald Denny and Una Merkel are bland and unappealing. The theme is timeless, the difficulty of staying happy in relationships, and the danger of thinking the grass is always greener. There are some nice moments, such as when Shearer is expounding on the wonders of travel, saying she loves "arriving at strange places, meeting strange people, and eating strange food", and then Montgomery quips, "yes, and making strange noises afterwards". It is also risqué in some parts, such as this exchange early on: Denny: He struck you once, didn't he? Shearer (smiling): Oh, more than once. Denny (concerned): where? Shearer (smiling and raising an eyebrow): Several places... For every element I found I liked, there was an equally unappealing element, and in this case I suppose Montgomery's line that "certain women should be struck regularly, like gongs" later in the movie is that. It's not awful, but the movie gets tedious with all of the bickering, and I found myself happy when it was over.
See Details