National Lampoon's Pucked
(2006)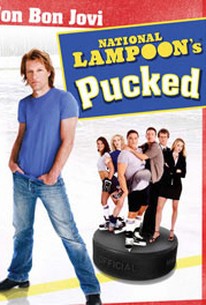 AUDIENCE SCORE
Critic Consensus: No consensus yet.
National Lampoon's Pucked Photos
Movie Info
Credit cards and women on skates prove to be a dangerous mixture in this comedy. Frank Hopper (Jon Bon Jovi) is a former lawyer whose career has hit the skids, and he currently lives off the largesse of his more successful sister, Leona (Nora Dunn). Frank has dozens of business ideas, but has no way to finance them, until he heads out with his friend Carl (David Faustino) one evening and fills out a questionnaire in which he jokingly states his income is a million dollars a year. Suddenly Frank's mailbox is flooded with pre-approved credit cards, and with his new line of credit, Frank launches his dream project -- a women's hockey league. But it seems that the world is not yet ready for women playing professional ice hockey, and before long Frank is 300,000 dollars in debt, with a handful of credit agencies taking him to court to get back the money he's spent so far. Frank turns to his former girlfriend Jessica (Estella Warren), now a successful lawyer, to help him stay out of jail, but it seems their work is cut out for them when they learn Jessica's very competitive former beau Norman (Cary Elwes) is prosecuting Frank's case. National Lampoon's Pucked was directed by Arthur Hiller; it was his first directorial project since 1997's An Alan Smithee Film: Burn, Hollywood, Burn, for which Hiller opted not to take credit.
Critic Reviews for National Lampoon's Pucked
All Critics (1) | Fresh (0) | Rotten (1) | DVD (1)
With production values that rival those of a high school student's home movie, it begs the question, and boggles the mind, why anyone thought it was a good idea to make it in the first place.
February 22, 2006 | Rating: 1.5/4
Audience Reviews for National Lampoon's Pucked
½
Jon Bon jovi stars with David Faustino (remember Married With Children?) in this (what Number National Lampoon movie is this?) probably direct to dvd goof but I was in need of a hockey movie & well being Goon isn't available yet & Score the Hockey Music isn't on Netflix at least here in U.S. I needed some kind of Hockey movie (that I haven't seen yet) & This I have no idea how I found it (probably when I added the other 2 to my Queue!) This is averagely funny. However Jon Bon Jovi's character isn't (tho' the companies deserve it) A former lawyer that was miserable and is more of a dreamer fills out a 'survey' and all of a sudden he starts getting credit cards (after he hasn't been working for 10 years! Lol) That's how he starts his new business venture. A Female Hockey League starting with 2 teams Pretty Predictable & totally stereotypical characters but I think it might be a tiny bit more funny if you are actually a hockey so that you can catch all of that type of stuff. Rating wise I'd say a C- or a (if I knew it would come to a cable movie channel I'd wait for that) otherwise just a rental def. a do not purchase!
Kym (c my community profile) Ragarsson
Super Reviewer
National Lampoon's Pucked Quotes
There are no approved quotes yet for this movie.