L' Uomo puma (The Puma Man)
(1980)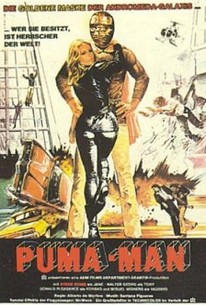 AUDIENCE SCORE
Critic Consensus: No consensus yet.
Movie Info
Low-budget superhero flick about a young man given a mystical medallion by a South American shaman, in order to become a puma- empowered champion like his father before him. In trying to locate the young man initially, the shaman has the nasty habit of pushing candidates out windows to test them.
Critic Reviews for L' Uomo puma (The Puma Man)
Audience Reviews for L' Uomo puma (The Puma Man)
The new MST3K Netflix original has been released and I decided to expose myself to some of the old episodes available for streaming on Hulu and Netflix (there is a different random selection on each platform). Whether it is Joel or Mike watching these awful movies with the bots I do not envy the torture they are put through. Their snarky comments add some entertainment value, but my ratings are based on the movie's quality itself and not the extra material broadcast from the satellite of love. Italian made ultra low budget flick shot mostly in England. The plot and effects are laughably, embarrassingly bad. Not based on a comic character. There is no chemistry in the romantic subplot. Donald Pleasence who was once Blofeld in the James Bond franchise plays a heavy of that type, but the writing is poor, his henchmen are bland, and the way everything is shot is boring.
Byron Brubaker
Super Reviewer
Why couldn't I have been pushed out a window before I had to watch this?
Some writer saw Changeman high on crack.
Lucas Martins
Super Reviewer
L' Uomo puma (The Puma Man) Quotes
There are no approved quotes yet for this movie.