Rammbock: Berlin Undead
(2011)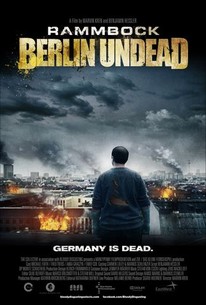 Rammbock: Berlin Undead Photos
Movie Info
Just when Michael arrives in Berlin to visit his ex-girlfriend Gabi, a terrible virus starts spreading across the city at a rapid pace, turning people into mindless homicidal maniacs. Much to Michael's concern, Gabi's not home; instead, he meets Harper, a teenage plumber's apprentice at work in her apartment block. Together, they manage to barricade themselves when raging hordes of infected people swarm the building. Surrounded by these thirsty zombies, Michael and Harper have their hands full to survive - and it will take all of their ingenuity to make their way out to try and find Gabi. -- (C) Bloody Disgusting Selects
Critic Reviews for Rammbock: Berlin Undead
Audience Reviews for Rammbock: Berlin Undead
½
A short but pretty damn good zombie flick. I don't think it really reinvents the wheel in any way, but it doesn't shamelessly rip-off other zombie films. It also has a nice little twist in how the zombie virus manifests itself. If you're bitten, if you can remain calm then your immune system will eventually fight off the virus. It's actually a really cool little twist and it sets up things that play out in the end. Unfortunately, the way this plays out in the end ends up feeling kind of cheesy. But that's just me, not spoiling anything but that's how I felt. Since the movie *is* so short, that means that there's really not a lot of room for character development. The movie does just enough so that it doesn't feel like an empty, but still enjoyable, experience but it's not like these characters are really three-dimensional. And, again, it's not like they could be considering how short the movie really is. I think the acting is solid. Michael Fuith does a good job at playing this man holding on to the last thing that meant anything to him before this zombie apocalypse, I can buy his motivations in a situation like this. There's also a surprising lack of gore in the film, not that it detracts from the film of course, it's just surprising. I think the film makes up for that with some creepy looking zombies and just a certain intensity that comes from the movie simply being so short that there's no time for bullshit. Of course, it's not a perfect film and outside of the twist with the virus, it doesn't really do much that you haven't seen elsewhere. But it is short and quite entertaining in that time. So if you enjoy zombie movies and movies that overstay their welcome, then this is a very suitable choice.
Jesse Ortega
Super Reviewer
An awesome zombie movie! A little short. But still very good!
Jacob Palacio
Super Reviewer
**1/2 out of **** I give any director credit if they can at least surpass George Romero's more recently bland attempts at reviving the genre of the undead. Newcomer Marvin Kren has done just that with "Rammbock: Berlin Undead", one of those new age zombie flicks that defines the very word "zombie" very differently from how the classics did. No longer do the dead come back to life and attack the living; they never seem to have died anymore in the first place. Now, zombies have become anyone with a radical virus that alters their perception and sanity. Here, the zombies are merely rabid human beings; and the outbreak is fatal and large in scale. It begins on a very typical day and goes for a few more after that. It could really just go on forever. But this isn't about the eternal struggle; it's about a singular struggle, then one shared within a team of people who still hold on tightly to their minds and flesh. Michael (Michael Fuith) goes to Berlin so that he may visit an ex-girlfriend of his named Gabi. He misses her dearly, and can't wait to see her again, but when he arrives at her apartment the only one in the room is a mechanic working on her furnace, and then the mechanic's assistant who comes soon afterwards. The mechanic attacks his assistant, and the boy fights back. This is followed by chaos in the streets that can be seen from the apartment window(s). Rabid humans are flooding Berlin in large groups; fast, furious, and hungry. The assistant - Harper (Theo Trebs) - and Michael decide to work together in an effort to save their skin (for as long as they possibly can). Other people in the apartment complex remain untouched by the virus, and they communicate with each-other from across the building; up, down, left, and right. But of course, the girl is always on Michael's mind. Since he stays in Gabi's apartment for most of the film and only reunites with her again within the second half of the narrative, every little thing reminds him of her. A bear suit that she wore in photographs found on her digital camera. Her forks that Harper wishes to use as ammunition for a home-made slingshot. This is where "Rammbock" makes a solid attempt at being something much more than just your standard zombie movie. It also tries very hard to be a tale of redemptive romance; although whether it succeeds in such fields is completely up to the viewer. As it is, I'm not entirely convinced by it all. This has all the qualities of a genuinely good movie. The camerawork is really moody and the Berlin setting is utilized rather creatively. There's plenty of bloodshed to please the type of people who enjoy these zombie movies, and the zombies themselves are pretty nice looking and never do they appear too over-the-top or underwhelming, like some tend to. The problem is that this film - which has so many good qualities - is only an hour long. Yes, you heard right: just 62 short, forgettable minutes. Add on another thirty and you might have had the necessary character development and compelling narrative. The themes probably would have come full circle. And the movie ends just when it's about to get awesome. Maybe there will be a sequel someday. I hope it continues the story like it was meant to be, because this just left me unsatisfied. But still, I like what Kren is getting at. This is not necessarily a good film but it is good filmmaking, I can acknowledge that much. In a manner of speaking, it's very much style over substance; but the style almost is the substance. It's gritty, brutal, and also quite "real"; which is what I like about it the most. But it's way too short, and I can't say that I ever really gave a shit about any of the characters. Stronger writing was needed in this department. But otherwise, you've got something that is at least entertaining and well worth a gander whether you're a zombie lover or not. That's more than I can say for whatever Romero's making these days.
Ryan Marshall
Super Reviewer
Rammbock: Berlin Undead Quotes
There are no approved quotes yet for this movie.