Ready Player One
(2018)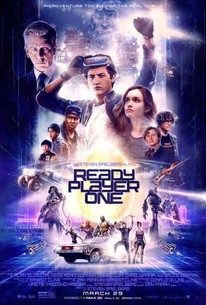 TOMATOMETER
AUDIENCE SCORE
Critic Consensus: Ready Player One is a sweetly nostalgic thrill ride that neatly encapsulates Spielberg's strengths while adding another solidly engrossing adventure to his filmography.
Movie Info
In the year 2045, people can escape their harsh reality in the OASIS, an immersive virtual world where you can go anywhere, do anything, be anyone-the only limits are your own imagination. OASIS creator James Halliday left his immense fortune and control of the Oasis to the winner of a contest designed to find a worthy heir. When unlikely hero Wade Watts conquers the first challenge of the reality-bending treasure hunt, he and his friends-known as the High Five-are hurled into a fantastical universe of discovery and danger to save the OASIS and their world.
News & Interviews for Ready Player One
Critic Reviews for Ready Player One
Audience Reviews for Ready Player One
When Jaws was released in 1975, it done so well at the box-office that it was the first film to become, what we now know as, the "blockbuster". Having been responsible for this, it still looks like Steven Spielberg (at the ripe age of 71) isn't in any mood to change that as Ready Player One - his 33rd film - is still an example of the big brand of entertainment that he's now synonymous with. That said, he hasn't been delivering that many of these types of films for quite some time now, choosing instead to focus on more dramatic material but I'm happy to say that he's still possesses that childlike imagination and adventurous touch. Plot: In the year 2045, a virtual reality system called the Oasis is an immersive world that allows people to escape their harsh reality and be or do anything the want - the only limits are your own imagination. The Oasis creator James Halliday (Mark Rylance) decides to leave a message for all its users before he dies. He creates an Easter egg within the game and anyone who finds it will inherit his immense fortune and gain complete control of the Oasis itself. Naturally, everyone sets out to complete the challenge but unlikely hero Wade Watts (Tye Sheridan) finds himself at the forefront of the hunt. It's fair to say that Spielberg has been (and still is) one of the most influential filmmakers in history. So many of his films have entered popular culture making him the perfect director to adapt Ernest Cline's nostalgic novel Ready Player One, which works primarily on delving into the very pop-culture that Spielberg himself has helped shape. In Cline's book, Spielberg is heavily mentioned but to give the director his due he has decided, for the most part, to omit his contributions when adapting it for the screen. Despite this, however, you really can't have a film that relies on pop-culture references without Spielberg being mentioned and he does throw in the odd welcome nod to himself. It's not just Spielberg on show here, though, as theres an abundance of nostalgia for anyone that grew up in the 80's and 90's and has even a passing knowledge of the rise of video games and such classic films as Saturday Night Fever, King Kong and Spielberg's own Jurassic Park. Most surprisingly of all, however, is the influence of The Shining. There's a sequence here that may offend the die hard fans of Kubrick's horror masterpiece but, personally, I was astounded at how well Spielberg uses scenes from that film to transport his own characters into; room 237 is explored again and we get to see the creepy twins in the hallway as well as the river of blood that floods from the elevator. Witnessing this with Spielberg's digitally enhanced characters shows how far technology can go in the movies and this is only one example. We also get to see Back to the Future's Deloreon back in action and fans of The Iron Giant will rejoice in that animated character being brought to life. To put it simply, the film is practically one big homage or nostalgic trip to films of the past and Spielberg wrings it out for all it's worth. Some may say that the central storyline suffers as a result of the CGI and I wouldn't argue with that but this is a film that wouldn't even have been possible 20 years ago and the imagination involved here is so intoxicating and reminiscent that I didn't care about the narrative taking a backseat. I was just happy getting swept along for the ride. As visual spectacles go, this is a truly astounding piece of work as Spielberg captures the allure and breakneck pace of a video game world - with an astonishingly exciting race in the film's opening - and transports us into this virtual reality with ease. In fact, the CGI moments are so good that it can sometime leave the scenes in the real world somewhat flat and doesn't allow the actors to fully embrace their roles. That said, Tye Sheridan is a serviceable lead and Ben Mendelsohn delivers his usual reliability in the villain role but the other actors don't make much of an impact and this is most apparent in the final third when they're relied upon more. It's around this point that film loses touch with its pace and feels a little overlong and, as entertaining as it is overall, it could've benefited from a little trim. I also wonder whether the film will appeal to our current generation of kids when there's a lot of references that will inevitably go over their heads. In essence, this film has a target audience and it's most definitely for those who grew up in the 80's and 90's and those that experienced the rise of gaming before virtual reality was even a thing. An intoxicating doze of nostalgia and a wonderful piece of escapism from Spielberg. The inventor of the blockbuster can still produce the goods and he proves it with his most entertaining movie for some time. Minor flaws aside, this is a true cinematic experience and one that made me feel like a child again - a skill that Spielberg has always excelled at. Mark Walker
Mark Walker
Super Reviewer
½
This could have been better, but also could have been worse. The story is fun at times, but inconsistent as it falls into some really corny 80's-type movie tropes. There are no real twists or turns, it is just a straightforward, non-risk taking screenplay. The main appeal may be the overflow of pop culture references, which may impress some, but is really just unnecessary and do not add much to the film honestly. It's a neat film, but not one that sticks with you once you've left the theater.
Sanjay Rema
Super Reviewer
Spielberg's adaptation of the popular nerd novel is fast, spectacular and fun. The director still proves to be a master of entertainment and earning our emotions by always pushing just the right buttons, literally here. He's also way too smart to get into a nerd references overkill, especially as far as his own films are concerned it's rather subtle. But there is Still plenty to see and probably find on multiple viewings. The only complaint would have to be that some minor characters with potential remain underdeveloped. A very rewarding experience, mostly for pop culture fans, the general audience will probably find it too artificial and specific.
Ready Player One Quotes
There are no approved quotes yet for this movie.