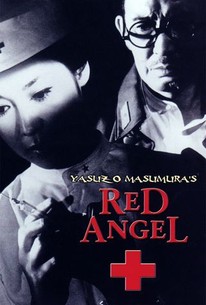 Red Angel
1966, War, 1h 45m
6 Reviews
100+ Ratings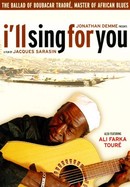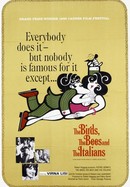 The Birds, the Bees and the Italians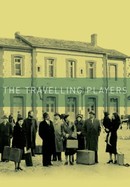 Where to watch
Rent/buy
Rent/buy
Rate And Review
Movie Info
Sakura Nishi (Ayako Wakao) is a nurse working at a remote Japanese hospital, treating soldiers wounded in the second Sino-Japanese War. As Sakura does what little she can to comfort men with wounds often too severe for the under-staffed hospital to handle, she begins to fall in love with one of the doctors, Okabe (Shinsuke Ashida). When Dr. Okabe decides to leave the hospital in order to treat soldiers still in battle, Sakura agrees to head into the fighting with him.
Audience Reviews for Red Angel
One of the best war films I have ever seen (I am not joking), Masumura's relentless and disheartening war masterpiece is an unbelievably honest depiction of the moral implications of the desperate decisions taken by doctors, nurses, soldiers and generals under desperate circumstances, while the film also reminds us by intervals about the human condition and dignity that all of them begin to lose as the repercussions of war keep making a terrifying progress. The protagonist is the nurse Sakura Nishi, who is send to the field hospitals in China during the Second Sino-Japanese War (1937-1945) in 1939. Another important character is Dr. Okabe, a committed officer and surgeon who has to perform dozens of amputations and operations every day, almost arbitrarily deciding, with his scarce means, equipment and professionalism experience, who lives and who dies. The whole story revolves around the two characters. The nurse Sakura begins to get emotionally attached not only to her profession, but to the patients as well, whereas Dr. Okabe's decisions begin to get professionally affected by his morphine addiction and personal problems. <i>Akai tenshi</i> explores war from a perspective that very few films hesitate to: that of medical assistance to the agonizing soldiers. That immediately causes the viewer to reflect in the effects of violence not only in real life - speaking in terms of the futility of war - but also from a cinematic perspective: watching violent sequences in battlefields, which are normally portrayed as action-oriented, have somehow managed to be qualified under terms of "entertainment", whereas the sights that this film shows are horrifying, full of pain, blood, gore, limbs and sicknesses. So Masumura masterfully constructs a duality between perceptions of war and pain, and between perceptions of entertainment and humanism. That is probably the greatest talent of this 1966 powerful testament. And I say "probably", because when the film fully tackles humanism, it explores certain facets of human life that remind us of our condition with exceptional power: family, fear, patriotism, and unexpectedly, love and sexuality, reaching heights that very few movies do. Nurse Sakura suffers a serious number of transformations, from a woman that was determined to do a job, to a woman that learns how to (but is never cabable of) separating her feelings from her job, to a woman that begins to carry guilt out of the death of 4 people over her soul (whether if it was her fault or not), to a woman that finally reflects on the significance of her survival. The doctor passes from being a morphine addict that saw soldiers not as human beings, but as mere instruments of war that had to be treated for sending them back to the front lines, to a man that rediscovers that which defined him as a man and as a human being: love, which he had lost three years ago when his wife died. All he did now was facing death every day, taking decisions of life and death that should not belong to any single woman or man on Earth. By the time we arrive to the 10-minute climactic, expertly filmed and invigorating war sequence, we no longer even explore the possibility of perceiving the sequence as entertaining. Rather, we come to the conclusion that all of the emotional devastation and discoveries, and all of the pain portrayed in the previous 85 minutes, were result of the action in the battlefield. So this sequence is scarier than it is pulse-pounding or exciting: it is horror that you wish just stopped for not increasing the number of victims and deceased people. What a bold move. So I have to arrive to the conclusion that the greatest talent of <i>Akai tenshi</i> is that it makes people reflect on the consequences of war in a very universal way, rather than hiding its truths under biased "patriotic" statements or entertainment stunts. It is honesty and humanism disguised as a war film which chose its historical setting perfectly. 99/100

"Red Angel" starts in 1939 as Sakura Nishi(Ayako Wakao), a 24-year old nurse, is assigned to an army field hospital in Tientsin where the head nurse(Ranko Akagi) informs her that the patients either have tuberculosis or mental problems. If it is the latter, they are malingering and simply do not want to return to the front.(Well, can you blame them?) One such patient, Sakamoto(Jotaro Senba), rapes Sakura one night. The next time Sakura sees him, it is at a hospital close to the front and Sakamato is gravely wounded. She pleads with Dr. Okabe(Shinsuke Ashida) to perform an infusion. He agrees to as long as she goes to his room later... "Red Angel" is a devastating and graphic antiwar movie that is filmed mostly in the shadows. In a war where the medical personnel work days with very little medicine at their disposal, it is important to view the soldiers as men, not as disposable items to be thrown away when they are used up. Sakura seeks to save the life of Sakamato, a man she hates, because no one deserves to suffer like that. Along the same lines, the movie takes a well-aimed shot at the sexual objectification of women during wartime. And it is here that the movie surprises the most with its erotic and kinky imagery mixed in with the brutal reality, as Sakura seeks to reclaim her sexuality.
See Details