Red Angel
(1999)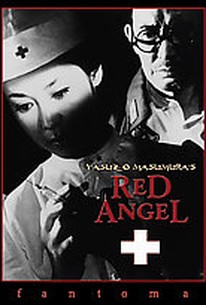 AUDIENCE SCORE
Critic Consensus: No consensus yet.
Critic Reviews for Red Angel
All Critics (2) | Fresh (2) | Rotten (0) | DVD (1)
one of the more powerful anti-war films you'll ever see.
Masumura gives one of the most brutal portraits of war ever filmed, leveling his finger not at the war itself, but at the mentality of the people who wage it.
Audience Reviews for Red Angel
"Red Angel" starts in 1939 as Sakura Nishi(Ayako Wakao), a 24-year old nurse, is assigned to an army field hospital in Tientsin where the head nurse(Ranko Akagi) informs her that the patients either have tuberculosis or mental problems. If it is the latter, they are malingering and simply do not want to return to the front.(Well, can you blame them?) One such patient, Sakamoto(Jotaro Senba), rapes Sakura one night. The next time Sakura sees him, it is at a hospital close to the front and Sakamato is gravely wounded. She pleads with Dr. Okabe(Shinsuke Ashida) to perform an infusion. He agrees to as long as she goes to his room later... "Red Angel" is a devastating and graphic antiwar movie that is filmed mostly in the shadows. In a war where the medical personnel work days with very little medicine at their disposal, it is important to view the soldiers as men, not as disposable items to be thrown away when they are used up. Sakura seeks to save the life of Sakamato, a man she hates, because no one deserves to suffer like that. Along the same lines, the movie takes a well-aimed shot at the sexual objectification of women during wartime. And it is here that the movie surprises the most with its erotic and kinky imagery mixed in with the brutal reality, as Sakura seeks to reclaim her sexuality.
Red Angel Quotes
There are no approved quotes yet for this movie.