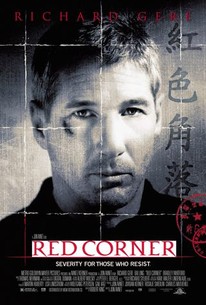 Red Corner
1997, Mystery & thriller, 2h 2m
23 Reviews
5,000+ Ratings
Where to watch
Rent/buy
Rent/buy
Rate And Review
Movie Info
Hotshot American corporate lawyer Jack Moore (Richard Gere) travels to China, representing a U.S. entertainment conglomerate that is seeking to forge a satellite TV agreement. He has a one-night stand with a young Chinese woman and wakes up in the morning beside a corpse and surrounded by evidence that he murdered the woman. He manages to convince his attorney, Shen Yuelin (Bai Ling), that he's not guilty, and together they uncover hidden evidence of a labyrinthine plot targeting Moore.
Rating: R

Genre: Mystery & thriller

Original Language: English

Director: Jon Avnet

Producer: Rosalie Swedlin, Charles Mulvehill, Jordan Kerner, Jon Avnet

Writer: Robert King

Release Date (Theaters): original

Release Date (Streaming):

Box Office (Gross USA): $22.4M

Runtime:

Distributor: Metro-Goldwyn-Mayer

Sound Mix: SDDS, DTS, Surround, Dolby Digital

Aspect Ratio: 35mm, Flat (1.85:1)
Audience Reviews for Red Corner
An average American thriller that follows each and every cliche meticulously. Like so many political thrillers of a more or less serious disposition, Red Corner plays on American Xenopobia and this time it is not the Russians nor the Germans but the Chinese. A poor businessman who is as good-hearted and innocent as a flower (i.e. fictional) gets tangled up in an intrigue involing murder and deceit. What follows is a cascade of chases through narrow alleys, outrage regarding the Chinese political system and love interest of course, all you would expect and you could go out for a cigarette while watching this, come back and know exactly what is going on. That being sad, it is not a bad film per se, Richard Gere is a good lead actor and Ling Bai is beautiful to behold but if you are looking for more than dumbed-down and uninnovative US entertainment, look elsewhere. Some people claim this is a Richard-Gere anti-Chinese propagandha film, I have to say that this is not much better or worse than all of the bond films, die hard films or any other American action thriller I have seen. It is very likely that Gere took on the project to support his political views but the that does not make the film something else than it is, a dull thriller. No need to seek this out and watch out and you might catch this some Sunday Afternoon on Telly and that might be good enough. HX

Quite predictable if you pay attention to the small details. There didn't seem to be much of a fight, there wasn't much tension at all considering he could have been killed for something he believed he didn't commit. It seemed all too easy to get him off the hook. Made me more likely to watch Chinese films though. They have a certain air about them.

Richard Gere plays Jack Moore is a TV executive who visits China to broker a satellite communication's deal with some Chinese businessmen. After the agreement is made, he celebrates with his new business friends and ends up taking the daughter of a Chinese Diplomat up to his hotel room where they spend a passionate night together. The next morning Jack wakes up to find her dead, and he is arrested for her brutal murder. At the mercy of the strict Chinese court system - where one is guilty until proven innocent Jack finds his entire world is turned upside down. Bai Ling plays his defense attorney who tries to convince the Chinese authorities of his innocence when she unearths puzzling contradictions in the case. She joins him in a pulse-pounding race to find the true killer... while both of their lives hang in the balance!

The strong anti-China beliefs of actor and political activist Richard Gere were evident in this Hitchcockian thriller that sought to expose the civil and human rights abuses of that country's legal system. Gere stars as Jack Moore, counsel to a large media conglomerate seeking to open trade relations with China, thereby delivering American television shows by satellite to the largest untapped market in the world. After an evening out at a nightclub and fashion show, Jack goes home with a beautiful model (Jessey Meng), then wakes up the next morning to discover her dead body. To his horror, Jack is accused of murdering the girl, who is revealed to have been the daughter of a high-ranking general. Assigned a court-appointed lawyer, Shen Yuelin (Bai Ling), Jack discovers that the repressive Chinese court system does not grant bail, encourages quick guilty pleas and executions, and looks upon him with disfavor for his Western moral turpitude. Finally persuading Shen that he's innocent, Jack and his lawyer embark on an investigation impeded at every turn by Chinese authorities, eventually uncovering a plot to discredit Jack and his company's entry into China.
See Details