Red Lights
(2004)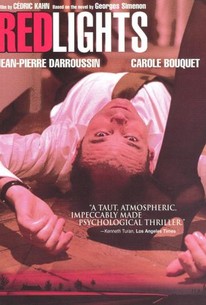 Movie Info
It's a summer holiday weekend in Paris and Antoine and Hélène are on their way to pick up their children at summer camp, thus joining thousands of other vacationers on the highways to the south of France. At first in high spirits, the couple starts sniping at each other during the drive as tensions in their relationship bubble to the surface. Frustrated by the freeway, Antoine takes a byway detour, much to Helene's displeasure, and then leaves her in the car as he stops for a drink. Once they're back on the road, their bickering escalates, with Antoine blaming Hélène for his drinking. Antoine then stops again to continue drinking at another tavern, although this time, Helene warns that she won't be there when he gets back. Still he defies her and goes into the bar, taking the car keys with him. He panics when he leaves the bar and discovers she has left. Believing that she has taken the train, he drives like a madman to the next station, but upon his arrival, the last train is mid-pulling out of the station. Driving away in a state of dread, he picks up a strange hitchhiker--not knowing he might have already crossed the path of his soon-to-be-missing wife.
People Who Like this movie also like
Critic Reviews for Red Lights
Audience Reviews for Red Lights
If you like to explore theories, you might wanna take this detour. I can only wish I'd avoided it. An utter disappointment, this friggin' (brilliant, for some; to each, their own) movie completely ruined my mood.
familiar stranger
Super Reviewer
After watching RL, I checked out some other reviews that mostly described this film as Hitchcockian. Here is the difference: Hitchcock would build tension and suspense throughout the film to the point that you were moved closer to the edge of your seat as the film progressed. One is never quite certain how things will proceed. Kahn creates a film that just filled me with a different sort of tension; annoyance. This is a lot of "build" for very little payoff, and by the time the payoff occurs I was more annoyed at the movie than on the edge of my seat. The constant driving just frustrated me even further. I promised myself I wouldn't forget how painful the first 30 minutes were, no matter how things turned out after that. Indeed, while RL clocks in at 100 minutes it feels more like three hours.
Red Lights Quotes
There are no approved quotes yet for this movie.