The Red Shoes (Bunhong Shin)
(2005)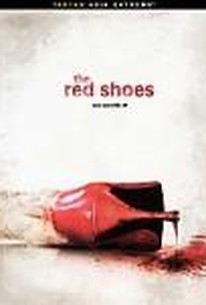 AUDIENCE SCORE
Critic Consensus: No consensus yet.
The Red Shoes (Bunhong Shin) Photos
Movie Info
Kim Yong-gyun's picture The Red Shoes is a South Korean horror opus. The story unravels in Seoul, where Sun Jae (Kim Hye Soo) discovers her husband's infidelity and leaves him, moving into an ancient, semi-dilapidated apartment house with her daughter, Tae Soo. She discovers a strange pair of red shoes on the subway and carts them home with her, sans realizing that the shoes carry a demonic curse and threaten to destroy the life of whoever holds them. As supernatural terrors hit the apartment and otherworldly visions fill Sun Jae's mind (including a dream sequence where drops of blood snow down from the sky), the shoes unleash the buried malevolent thoughts and desires from everyone surrounding Sun Jae, propelling the individuals toward horrible deaths. Sun Jae and her boyfriend Cheol (Kim Seong-Su) then attempt to determine the origin of the shoes and end the death spell - before Sun Jae's life is extinguished. ~ Nathan Southern, Rovi
Critic Reviews for The Red Shoes (Bunhong Shin)
Audience Reviews for The Red Shoes (Bunhong Shin)
½
Creepy and Fact vs Fiction? Now i like Korean movies they can be wonderful and full of color....But this doesn't quite live up to what the beautiful 40s version did. Some good acting and direction and one of the most insane fantasy scene i have ever viewed. But the crap story that can be confusing to so many viewers makes it hard to watch. So my grade is just skip it or watch if you love this cinema.
At the time of this review, I have not seen a ton of horror films because this genre doesn't appeal to me as others do. With that said, Yong-gyun Kim creates one freaky film known as The Red Shoes.
The movie starts out fairly quickly after a minute of bloody looking credits. The first brutal death comes and goes and the movie is off. As seen in many Asian flicks, not just horror, a bulk of the storytelling is fairly abstract and the ending supposedly ties everything together. The Red Shoes follows this same formula. It moves at a slow pace and it is a very dark story, which requires your attention to follow what is going on. Don't feel bad if you are lost because the ending does a pretty decent job at bringing a lot of things together, but not everything.
The Asians really know how to create suspenseful horror films and once again, The Red Shoes is no exception. When this movie gets freaky, IT GETS FREAKY. Young eyes can get nightmares from watching something like this. The deaths are gory, albeit there isn't a whole lot of them. The deaths don't make this movie though. The suspense and scares do. Like any Asian horror, this film gets the scares in at the right moments, which in turn makes them successful.
Just when you think it is all over and the red shoes story is complete, the movie continues for another 15 minutes. It is one h*** of a 15 minutes too. Unless you don't want to sleep, do not watch this alone in the dark right before you go to bed.
The acting is good. Hye-su Kim is the ever popular female lead and she does what she has to. I give props to the young Yeon-ah Park for being in a movie like this.
The Red Shoes is meant for Asian horror fanatics. This is truly a good watch for them.
This is almost as bad as Cello; equally derivative, but slightly more involving and with much stronger imagery. I looked at the checklist of films that Cello cribs from and The Red Shoes also takes elements from every single one of those movies as well, except substitute music for dancing. Allow me to repeat myself: Ringu (black-haired girl ghost), Tale of Two Sisters (entire aesthetic sensibility), Phone (past rivalry gone sour), The Eye (plot with heavy musical themes), Dark Water (devotion to the daughter), Acacia (disintegration of the family unit), or even Suicide Club (remaining weirdness factor). It looks much different from Tale of Two Sisters, but Lee Byeong-Woo composed this so I count that as a similarity as well. His work here, by the way, is fine - not as strong as his seminal work in the former film, and awfully showy, but there are some real highlights. He needs to keep the organs out of his compositions, though. Baaaaaadly. Anyway, this was vaguely involving if only for the lead performance - Hye-su Kim doesn't do "wild-eyed horror" very well, but her quieter emotional moments are strong and she pulls off her breakdown perfectly in the final act of the film. The child actress is good as well, despite the fact that her character is an unbelievable brat - even before the shoes are introduced, she obviously deserves a spanking. They play off each other well and I read a summary of the director's commentary about how they interacted that impressed me. I will also give The Red Shoes points for a twist toward the end that I didn't see coming, but then I'm going to take those points away for a subsequent stupid twist that doesn't make any sense. Anyway, these efforts aren't enough to make the movie good by any stretch, and for some reason it's incredibly unscary despite the technical prowess. I guess cursed shoes don't quite work. And on that note, the shoes are not red in any sense of the word. They are definitely pink. I took it to be a metaphor, like the shoes are bloodstained, but they are referred to as "red shoes" at least twice throughout the film. Uh...great job, guys.
Drew Smith
Super Reviewer
The Red Shoes (Bunhong Shin) Quotes
There are no approved quotes yet for this movie.