Ride the High Country
(1962)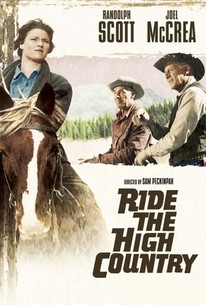 Ride the High Country Photos
Movie Info
Gil (Randolph Scott ) and Steve (Joel McCrea) are two proud former lawmen coping with the changing times after helping settle the wild West. They take a job as guards who protect a shipment of gold. They also protect the virtues of young Elsa (Mariette Hartley) when a bevy of bad brothers attempt to make her the object of their criminal carnal desires. Edgar Buchanan plays wise Judge Tolliver, with James Drury, L. Q. Jones and Warren Oates play the brothers who are after the gold and the girl. This film was directed by Sam Peckinpah.
Critic Reviews for Ride the High Country
Audience Reviews for Ride the High Country
½
Beautifully shot western with performances by Joel McCrea and Randolph Scott that distill their personas perfectly.
This early effort by "Bloody Sam" is one of many elegiac westerns the lauded director helmed. Hmm, now that I think about it, pretty much every western he did was an elegy...interesting. The setting is the early 1900s: the twilight for the Old West. Joel McCrea is an ex-lawman living on the fringes of society. When he gets hired to escort a shipment of gold, he decides to enlist the help of his old pal played by Randolph Scott. Unlike McCrea's character, Scott's doesn't have much remaining integrity, and thus is easily tempted, along with his young saddle mate to convince McCrea's Steve Judd to steal the gold for themselves instead of delivering it as expected. This film come out during a transition period for the western genre. It was after the heyday of the classic era, but a few years before the revisionist epics that started in the late 60s, perhaps best exemplified by Peckinpah's own bloody masterpiece The Wild Bunch. As a result, this film is a bit of a mix between the old period, what with being a send off of sorts, as well as a forerunner for what would soon come, though the violence here, while fairly strong for the time, isn't quite to the level that it would be in the aforementioned The Wild Bunch. The leads are pretty good, and they have a nice rapport with one another. Their costars likewise do pretty decently with the material. The film is rough around the edges, and you can tell it's before Peckinpah hit his stride, but it's still got some great location shooting and decent cinematography. Give this one a watch. It's pretty solid.
Chris Weber
Super Reviewer
½
I think this is actually a pretty cool movie and I enjoyed it as much as I possibly could. However, I'm not a big fan of Joel McCrea or Randolph Scott. Therefore, the nostalgia factor really didn't hit home to me. Even with that handicap, Sam Peckinpah's debut is pretty incredible. It's wonderfully shot, moody and fun. I think my favorite shot of the entire movie is the scene where one of the bad guys is shot in the gut and the camera just stays on him while he slowly dies.
Conner Rainwater
Super Reviewer
Ride the High Country Quotes
| | |
| --- | --- |
| Steve Judd: | All I want is to enter my house justified |
| Steve Judd: | All I want is to enter my house justified. |
Discussion Forum
Discuss Ride the High Country on our Movie forum!