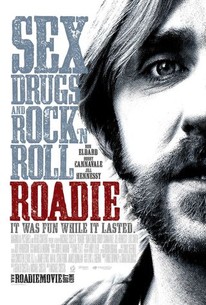 Roadie
2011, Drama, 1h 35m
28 Reviews
500+ Ratings
Where to watch
Rent/buy
Subscription
Rent/buy
Rate And Review
Movie Info
After losing his longtime job with Blue Oyster Cult, a stagehand (Ron Eldard) returns to his hometown, where a night of partying with old friends shows him that some things never change.
News & Interviews for Roadie
Audience Reviews for Roadie
Ron Eldard, Jill Hennessy, and Bobby Cannavale's performances are the best reason to check out this film. They shine here. The film kind of feels like a stage play. The film does have some great music in the film. Lois Smith and David Margulies also offer solid supporting work here. My problem with the film was the pacing, which was off here. The film begins really well and takes off, then slows down and then gets back on, and then slows down. If they would have fixed the pacing, then it would have been a much better film. Still the film is worth checking out, especially for the performance.

The movie starts with Jimmy(Ron Eldard), a 42-year old roadie, being unceremoniously left behind by his employers somewhere in Michigan. Unable to land a gig anywhere, he goes to the only place where he might be welcome which is his mother's(Lois Smith) home in Forest Hills, NY, but is so distracted by talking on his cell phone that he forgets his bag in the cab. To console him, his mother promises to make him a tuna melt with peppers and provolone but lacks the necessary butter. So, instead of calling the cab company about his missing bag, Jimmy goes to the corner store but not before he goes to a bar where he encounters Randy(Bobby Cannavale) and Nikki(Jill Hennessy, laying on the Queens accent a little too thick), herself an aspiring musician, former high school classmates of his and now married to each other. "Roadie" is an underwhelming character study that is solely content to think of its lead character as a deluded fool and simply leave it at that, taking note of all not accomplished in his life. But life is not something to keep a running score of. While the life of a roadie probably contains more than its share of odd hours, back breaking work, long bus rides, greasy food and sub-par drugs, it should also give someone who has been around as long as Jimmy more than his share of stories to tell, none of which he is apparently willing to share with friends and family, including the reason for his being fired. What did he do? Pass a drug test?

The story of a 'could have been' rock star, that ended up as a roadie for 20 years. Not a very eventful film. A little on the slow side. All in all, not much to write home about.....

An indie drama with a familiar story that adequately hits all of its emotional beats, but never goes past that. Ron Eldard is fine in his role, but isn't given a lot to work with, as the script is seemingly unfocused, and the film itself really doesn't get into much depth. As derivative as it is, the film is always watchable, and does a few interesting things with Eldard's character that make it worth checking out.
See Details