Rock 'N' Roll Invaders: The AM Radio DJs
(1987)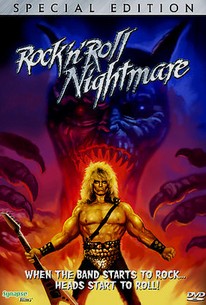 AUDIENCE SCORE
Critic Consensus: No consensus yet.
Movie Info
A big part of the early history of rock & roll came from the disc jockeys who first put the music on the radio; they often had personalities as unique as the musicians they played. Rock 'n' Roll Invaders takes a look back at the great AM DJs of the '50s and '60s, from Alan Freed to Wolfman Jack.
Critic Reviews for Rock 'N' Roll Invaders: The AM Radio DJs
Audience Reviews for Rock 'N' Roll Invaders: The AM Radio DJs
½
Rock 'N' Roll Nightmare is a fun low budget horror film that is tongue in cheek, but is lots of fun due to its ridiculous plot. The film boasts an interesting idea and for the most part work well enough to keep you entertained. Overall this is a decent film that should be seen by fans of low budget cult horror films. Like I said, this is a ridiculous affair, but one that emphasizes all that's good about cheesy 80's horror. The film has its flaws and it does show up on-screen, but the amusing nature of the film makes you enjoy it all in strides. Acting wise, there never are any standout performances, but this type of film that is to be expected. The film is fun, and relies on tongue in cheek performances to deliver effective entertainment. This is not a film for everyone as it is silly, but to those that enjoy low budget horror, Rock 'N' Roll Nightmare is definitely a treat. For all its imperfections, this is a fine piece of 80's nostalgia, and if you come across it, and want to watch a fine example of truly original 80's cheese, then give it a shot. Rock 'N' Roll Nightmare is a decent horror yarn that could have been reworked a bit, but the final product that we see on-screen is a movie that represents perfectly the feel of the 80's metal scene mixed with horror elements to create a memorable low budget schlock fest that will thrill midnight movie fans looking for mindless horror fun. With effective horror sequences, a good soundtrack and interesting concept, Rock 'N' Roll Nightmare is a low budget Cult film that no horror fan should pass up.
The greatest so-bad-it's-good film of all time. Everyone needs to see this movie at least once. Fantastic lunacy!!!
Graham Willis
Super Reviewer
I love this movie! I became an instant fan of Thor after watching it and the documentary.
Rock 'N' Roll Invaders: The AM Radio DJs Quotes
There are no approved quotes yet for this movie.