Rock School
(2005)
Movie Info
Paul Green is a man who declares himself born to teach kids, but he has nothing to do with the traditional educational system. Musician Green is the proprietor of the Paul Green School of Rock Music, an after-school facility in Philadelphia where kids from 9 to 17 learn how to play instruments and work together in a band. While Green outwardly seems like a loose cannon who yells at his students and acts only marginally more mature than a high schooler, the kids who attend his school love him and he gets results; one of the Rock School's ensembles were invited to perform at a Frank Zappa tribute event in Germany (where they brought down the house), and several say that his approach has changed their lives for the better. Rock School is a documentary which offers an inside look at Paul Green, his school, and the kids who learn from him.
Critic Reviews for Rock School
Audience Reviews for Rock School
So there's this guy who runs a school for kids who want to play ROCK! (if you consider Frank Zappa to be rock), and he shouts at them a lot and swears and comes across as an irritating twat. The kids are talented though and worth watching it for but to be honest, It would be a LOT better if they got someone like, say, Jack Black to play a wannabe rocker who teaches upper-class kids how to etc etc etc.
Marcus Woolcott
Super Reviewer
½
Engaging and provocative, this home-movie-style documentary continually caught me off guard as it follows a teacher and his students. This isn't a normal classroom and the way they interact defies educational conventions. They're not learning how to be the next Beyonce or All American Rejects clone; they're studying Frank Zappa, Led Zeppelin, Black Sabbath, Carlos Santana and Pink Floyd, much more challenging and complex music that requires intense skill. The biggest kid of all has to be Paul Green, himself. The man throws tantrums and objects at his students and seems to have the f-word permanently programmed to roll off his tongue. He's obnoxious, condescending and an egomaniac, but the kids keep coming back, even after he makes them cry. An accomplished guitarist, Green chose to teach, but confesses he's not so sure he ever wants his students to be better than he is. His goal is to get them to the point where they can play Frank Zappa. And not just any Zappa song, he wants them to learn Inca Roads, one of Zappa's most difficult and musically challenging arrangements. Green gets his moment in the spotlight, but the documentary shows that it's the kids who really shine.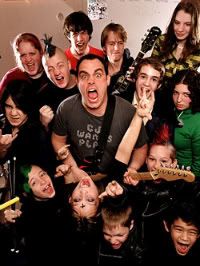 El Hombre Invisible
Super Reviewer
½
This is a good documentary about how children can better themselves through heavy metal and verbal abuse. All joking aside, this was kind of hard to watch. I just wanted to punch the teacher-dude in the face. The redeeming feature of this movie was the jaw-dropping talent of the kids in the movie. It was so gratifying to see an original Mother of Invention drop to his knees as a ten-year-old plays Zappa's tunes.
Emily Armstrong
Super Reviewer
Rock School Quotes
There are no approved quotes yet for this movie.