Saint of 9/11
(2006)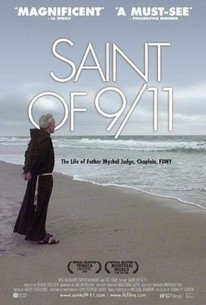 Movie Info
"Saint of 9/11" presents the turbulent, restless, spiritual and remarkable journey of Father Mychal Judge. Compassionate champion of the needy and forgotten, a beloved Fire Department Chaplain, rousing Irish-American balladeer and iconoclast, Father Judge was a humble parish priest who wrestled with his own private demons while touching others in powerful and miraculous ways. Throughout his career as a friar, he lived a life of witness, action and love. He provided hope, warmth, compassion and acceptance. Mychal Judge knew the pain of loss and suffering. He struggled with alcoholism and was an outspoken AA advocate. Through his own vulnerability, imperfection and fragile humanity, he was able to reach people in their pain, shame and fragility. Father Judge was a gay man who loved his priestly work.
Critic Reviews for Saint of 9/11
Audience Reviews for Saint of 9/11
[font=Century Gothic]Father Mychal Judge was a Franciscan monk and New York Fire Department chaplain whose death at the World Trade Center on 9/11 was captured in a famous photograph. Since nobody should be known more for his death than his life, especially someone like Judge who cared for so many people, along comes "Saint of 9/11," an anecdotal documentary to rectify that. Basically, it has the feel of a funeral mass as his friends and colleagues, along with those he tended to, plus two who only knew him postmortem, speak about how he touched their lives, as he tried to make the world a better place from Nothern Ireland(his parents are from Ireland and he always felt a connection to that place) to AIDS patients(he was a closeted gay man) in the early days of the epidemic. Archival footage is also used, including some of him preaching but not nearly enough. And if you're going to employ Ian McKellen to narrate, make sure to get your money's worth.[/font]
Saint of 9/11 Quotes
There are no approved quotes yet for this movie.