Sakebi (Retribution)
(2007)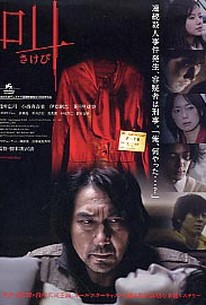 AUDIENCE SCORE
Critic Consensus: No consensus yet.
Movie Info
Japanese horror producer Taka Ichise -- the force behind Ringu and Ju-on: The Grudge -- and Kiyoshi Kurosawa, the director of Pulse, team up for the supernatural horror picture Retribution (aka Sakebi), starring Koji Yakusho, Riona Hazuki, Tsuyoshi Ihara, Manami Konishi, Ryo Kase, Hiroyuki Hirayama, and Jô Odagiri. Yakusho plays Yoshioka, a cop tormented by strange details surrounding the murder of a local woman (Riona Hazuki) in a red dress. Though ostensibly killed by being drowned in a shallow, tepid pool of muddy water, an autopsy reveals the woman's belly as full of seawater. Moreover, a button found at the murder scene matches one that is missing from a coat Yoshioka purchased, and fingerprints that cover the body match his own. Yoshioka thus immediately reasons that he must have killed the woman but blocked it out, despite the assurance of his colleagues that he probably just touched the body sans gloves. He is soon visited repeatedly by the apparition of the victim (red dress intact). As these visitations build in intensity and bizarreness, another drowning murder -- that of a surgeon's son -- occurs in exactly the same manner, and the evidence this time seems to point so conclusively to Yoshioka that he could be sent away at any moment. But the story is far from over. To say more would ruin the picture, but Kurosawa then springs an endless series of twists and double-crosses that force the audience to reevaluate everything that has come before. ~ Nathan Southern, Rovi
Critic Reviews for Sakebi (Retribution)
There are no critic reviews yet for Sakebi (Retribution). Keep checking Rotten Tomatoes for updates!
Audience Reviews for Sakebi (Retribution)
Kiyoshi Kurosawa is a master of minimalist horror. Like Kairo the audience has to do much of the work. We are supplied with a film that looks beautiful and on the surface has a very simple plot. As the story progresses all is not so simple and we are drawn into a more surreal and supernatural world. Despite this, Sakebi never loses it's grip on reality. The locations are sparse, industrial areas which still look heart achingly wonderful on film. The mystery slowly sucks you in but not all answers are handed to you in some 20 minute exposition speech. Kiyoshi Kurosawa also knows how not to use sound, omitting those screechy and sudden sound effects found in usual horrors. His shots are also composed in order for us to search them ourselves. Ghostly characters lurk in the background without any sound cue. Characters don't notice them until long after we have. Simple and very effective.
Luke Baldock
Super Reviewer
½
Meh. Considering the director's past works, it fails to impress or scare. It's more of a slow-paced crime drama than a horror flick. As a mystery, it succeeds. The serpentine plot involving a cop accused of murder by the victim of said murder kept my interest. But the many appearances of the ghost (who was more of a monologuing banshee than your typical J-horror Onryo) in this movie made me laugh more than give me chills, and the ending left me more confused than satisfied.
Duncan Ryan-Ross
Super Reviewer
½
Cool Japanese spooky film which is very mysteriously in the tradition of The Grudge and The Sixth Sense. I was a bit shocked at the final scene of what a woman in a red dress did to a young detective and I figured it out why she had to do it for the senior detective. You'll see when you watch it carefully.
Dean McKenna
Super Reviewer
Sakebi (Retribution) Quotes
There are no approved quotes yet for this movie.