Salem's Lot
(1979)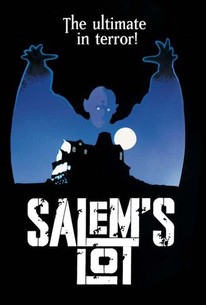 Salem's Lot Videos
Salem's Lot Photos
Movie Info
When Ben (David Soul) returns to his hometown to work on his novel, he discovers a series of strange events that lead him to suspect that a vampire is stalking the community. It's something to do with the mysterious antique dealer, Mr. Straker (James Mason). This two-part, TV movie is one of the better adaptations of a Steven King story, and Marie Windsor admirers will like seeing her again in a good role. But King or Windsor fans should be sure to rent the three-hour, 2-tape version, rather than the butchered 112-minute digest.
Rating:
PG
Genre:
, , ,
Directed By:
Written By:
In Theaters:
On DVD:
Runtime:
Studio:
Warner Home Video
Cast
Critic Reviews for Salem's Lot
Audience Reviews for Salem's Lot
Now a pretty ancient vampire film and it certainly looks its age these days, made one year after I was born and I've only just got round to seeing it. Adaptation of a well known King novel of which I saw the film version which is simply all the episodes of the mini TV series stuck together into one movie. As said this was originally a TV series and you can see how it has been put together for this film version but that doesn't detract really, it kinda adds a little charm to the proceedings. Its not terribly scary by today's standards but there is a nice spooky atmosphere throughout which feels good on a cold dark rainy night. Its a slow slow burner that's for sure, I must admit I was getting really quite bored in places as the film is three hours long and there's a lot of dialog all the way through, not much vampire action to be honest. What action there is is now quite quaint and harmless really, not much blood on show and some pretty amusing melodramatic acting as people fall foul of 'Kurt Barlow', but the makeup is still very good, especially the eyes of the vampires. The film is well made and a good adaptation I think as it does seem encompass a lot from the original source, I haven't read the novel but there is a heck of a lot of info packed into the plot with good back stories and character development. Must mention the legend James Mason here as his calm gentlemanly demeanor accompanied by his smooth, eloquent, perfectly pronounced voice works wonders for the evil vampires right hand man, Hopkins and Price eat your heart out hehe. A curious addition to vampire lore which is slightly dull but altogether well crafted, the look of the main vampire obviously has been designed after the classic 'Nosferatu' look but in turn you can see how many future vampire films have also used this style and look.
Phil Hubbs
Super Reviewer
As a TV movie, Salem's Lot is a stunning film that generates effective chills. Directed by horror master Tobe Hooper, Salem's Lot adapted from Stephen King's novel of the same name is a terrific tale of vampires. This is among the classic vampire films and is a must see for fans of the genre. Well acted and directed, this is a powerful and terrifying horror film that is quite impressive because it was made for TV and it has the chilling, eerie tone of a big budget theatrical release. This was Tobe Hooper at his peak. It among one of his strongest films and it remains an essential film for vampire lovers everywhere. This is a stunning film that relies on old school horror trick to create its tension. The result is an effective, creepy film that generates genuine terror for the viewer. Salem's Lot remains one of the best vampire films ever made and some scenes in the film are truly terrifying and one of a kind. A brilliant, well acted film, this is a must see for horror fans and is sure to appeal to Stephen King fans and Hooper fans alike. This is an atmospheric film that will certainly terrify you. As far as the vampire genre is concerned, this is among the best the genre has seen. Not only that, but as Stephen King adaptation, it ranks among the best. Salem's Lot is a standout horror film, and is a classic of horror. The story is engaging and creepy and the directing is effective and the cast are terrific as well. A must see for genre fans. .
Straker: You'll enjoy Mr. Barlow. And he'll enjoy you.  "The ultimate in terror." Salem's Lot is Stephen King's take on the vampire story and it is a pretty good one. A lot of what made the story so scary didn't translate well to the screen, but I still consider this a good adaption of the book. Tobe Hooper is a skilled horror director and while this isn't his best work, it's still a solid entry into the vampire sub-genre.  The movie took me somewhat be surprise. I didn't expect the acting to be nearly as good as it is because it was a made-for-tv film. The cast isn't spectacular, but they do a good enough job. The film isn't at all scary or even creepy, but it was still a fun movie to watch. I probably had more fun watching it than I should have. A writer returns to his hometown that he left when he was 10 or 11 years old. He is obsessed with an old house that stands there, that is also rumored to be haunted. He makes it the subject of his next book. Shortly after arriving, weird occurrences begin and he suspects that whatever is going on has to do with an antique dealer, his partner and that house. The plot is solid enough, but it is nowhere near King's best work. Salem's Lot falls somewhere in the middle when it comes to King adaptions.
Melvin White
Super Reviewer
Discussion Forum
Discuss Salem's Lot on our Movie forum!
News & Features