Sam's Lake
(2005)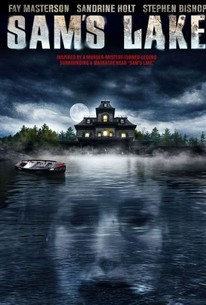 AUDIENCE SCORE
Critic Consensus: No consensus yet.
Movie Info
A scary legend becomes a far more terrifying reality in this independent horror picture. Samantha (Fay Masterson), known to her friends as Sam, grew up in a small lakefront community, and though she moved away to the big city years ago, she still feels strong emotional ties to the town. On the anniversary of her father's death, Sam feels the need for some solace away from the city, and invites a group of her friends to join her for a long weekend at the family's lake house. Spending time in the woods proves to be a great tonic for Sam, and her best friend, Kate (Sandrine Holt), strikes up a romance with Jesse (William Gregory Lee), one of Sam's old friends who still lives nearby. One night around the campfire, Sam shares a spooky story with her friends -- a local tall tale about a deranged young man who murdered his family and has been haunting the woods ever since. While most of the group takes the story in the spirit of fun, one of them, Franklin (Stephen Bishop), makes a startling discovery -- there's an old diary in the house that appears to be the journal of the mysterious killer, which suggests the madman is still at large and not far away. Sam's Lake was the first feature film from writer and director Andrew Christopher Erin.
Critic Reviews for Sam's Lake
All Critics (3) | Top Critics (1) | Fresh (1) | Rotten (2) | DVD (2)
The nicest one can say about Sam's Lake is that it's well-shot, and that its major plot twist is genuinely surprising...if only because it makes no sense at all.

Sufficiently subtle and tasteful carnage, if those are suitably chosen words for what's in store. And the females, whether with good or bad intentions, rise above the usual scream queen hottie in distress roles, to flex their rough stuff too.
Avid horror fans will find Sam's Lake to be a stylish and well-edited, but mostly tedious and bland horror film lacking in thrills, chills or any real surprises.
Audience Reviews for Sam's Lake
½
A descent horror flick with a pretty interesting plot.
Jacob Palacio
Super Reviewer
½
A decent horror film found on Chiller. I found it to be a somewhat clever slasher tale than others out there, although as most of the genre, it does center around a group of attractive young adults who are played by relatively unknown cast. The scene is set when the group of friends are sitting around a campfire listening and telling scary stories, but one of them really happened. They visit the actual house that the true story occurred and find a journal, which is an interesting setup for the twist. The movie turns at that point from the build-up to action. Aside from the bland acting of most of the cast, the story is enough to keep one interested in the hour and half it takes to tell it.
nefnie lee
Super Reviewer
Weak acting and no gore, this movie is all about the "twist" which is lame at best. Poser horror for those with a weak stomach.
Sam's Lake Quotes
There are no approved quotes yet for this movie.