Sauna
(2008)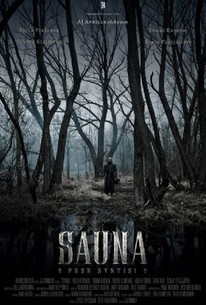 AUDIENCE SCORE
Critic Consensus: No consensus yet.
Movie Info
Jade Warrior director Antti-Jussi Annila crafts this transcendentalist shocker set in 1595, and following two brothers as they descend into a world where there is no such thing as salvation. Protestant Sweden and Orthodox Russia have just reached an uneasy truce. In the wake of their fighting, Finland has become a wasteland. Conquered Finnish brothers Knut and Eerik are polar opposites; one is a hardened warrior whose mind has been twisted by the horrors of war, the other is a gentle scientist with no use for fighting. Both have been assigned the task of denoting the new border between Finland and Russia, though they're about to commit a sin that will haunt them both for the rest of their days. After leaving a young girl to die an excruciating death, Knut and Erik forge ahead into an uncharted swamp, eventually reaching an unmapped town where their mere presence awakens a force of unspeakable evil. The girl has returned to haunt them, a horror that both brothers attempt to escape by washing away their sins in a mysterious sauna. But this sauna holds a terrifying secret, and in this godforsaken land there is no mercy for men who would permit such atrocities to be committed against a mere innocent.
Critic Reviews for Sauna
All Critics (3) | Fresh (2) | Rotten (1) | DVD (1)
...one of the most repugnant and flat-out contemptible cinematic experiences to come around in quite some time.
Similar in style to the brilliant Let the Right One In, this story of blame and belief, terror and trepidation uses an unfamiliar era and event to lay the foundation for one undeniable work of fear.
Director AJ Annila bends the tone before our eyes ... We follow his lead and don't give a damn if it all amounts to nonsense.
July 22, 2009 | Rating: 3.5/5
Audience Reviews for Sauna
Hmm. Someone's going to need to explain this movie to me. Is there a boogeymonster that's so well-known in Finnish (Russian?) folklore that its presence is fully understood and taken for granted? I still have no idea what was attacking these people, how or why. But that's part of what makes it so scary. That and the fact tat the director is a damned inventive manipulative bastard. His clever blend of static and hand-held camera shots
Emily Armstrong
Super Reviewer
½
Man this was so boring. And it's not that scary in mu opinion. Yes it does have some scene that will make you kinda jump but I think it was okay.
Dead Angel
Super Reviewer
½
"Wash your sins" Finnish horror movies come out maybe once in a decade. I can't recall seeing another horror movie from Finland before 'Sauna'. A-J Annila has taken a highly ambitious task on his hands but he doesn't nail it completely. It is the late 16th century and the 25 year lasting war between Sweden/Finkand and Russia has ended. Eerik and Knut are two brothers, part of a border-recognition treaty detachment. On their journey to solve the differences between the two nations, Eerik murders someone at the beginning of the film. After that, 'Sauna' runs completely around the consequences of this tragic event. They come to a town in the middle of nowhere. There is an old sauna... 'Sauna' has an interesting basis but A-J Annila can't completely hold his "strings attached". The beginning of the film makes the story develop nicely but midthrough when the lead characters are torned by sin and guilt, the story just scatters in different directions. I'm not sure if the director was even sure of how he wanted the movie to end? 'Sauna's' strength lies in its psychological horror. It's a good thing that Annila did not include cheap spooky effects. The visual image of the film is also beautiful. There's no doubt that Annila is one of the most talented directors coming from Finland. Ville Virtanen, who has made a long career in Finland, gives a strong performance as Eerik. I was very surprised of his performance as I remember him best as a comedic actor. 'Sauna' had some very good potential but maybe Annila's experience isn't at the level required to make a full feature film? Strongly recommended though to all fans of different kind of horror.
Sauna Quotes
There are no approved quotes yet for this movie.