Scream of the Banshee
(2011)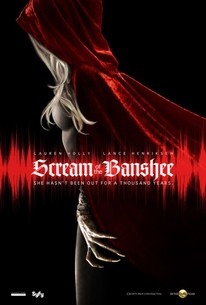 AUDIENCE SCORE
Critic Consensus: No consensus yet.
Scream of the Banshee Photos
Movie Info
When a college Professor opens up a strange, ornate box discovered in the basement of a University, she and her students hear a horrifying scream belonging to that of a bloodthirsty banshee. They think nothing of it, until that scream begins to haunt all that heard it in strange and surreal ways. According to Irish lore, if you hear a Banshee scream, you will die - which is what starts happening to them one by one, as the creature starts taking their lives... -- (C) After Dark Films
Critic Reviews for Scream of the Banshee
Audience Reviews for Scream of the Banshee
Pretty darn impressive for a Sy-Fy movie. The film sees a group of teachers at a school unearth the head of a banshee that soon sets out to kill. It sounds simple and it is. The reason the film works is thanks to the use of some pretty gruesome and effective practical effects and make-up. The 'horror' scenes are genuinely uncomfortable and unsettling, and I certainly didn't want to catch any of the banshee's incarnations hanging around my room. The acting is passable, although the stars sometimes have trouble handling the emotional stuff the script throws in. Unfortunately, there are still some massive mistakes, such as music that continues to swell despite having revealed some scares as fake-outs. There were a couple of laughable moments and the ending just goes off on its own tangent. Still, this is one of the most enjoyable and best B movies I've seen in a long time.
Luke Baldock
Super Reviewer
MisterYoda ?
Super Reviewer
Scream of the Banshee Quotes
There are no approved quotes yet for this movie.