Search for Santa Paws
(2010)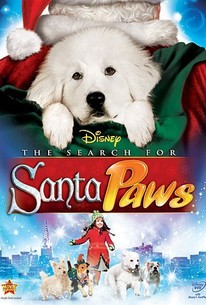 AUDIENCE SCORE
Critic Consensus: No consensus yet.
Search for Santa Paws Photos
Movie Info
Santa's loyal, four-legged companion Paws enlists the aid of a fun-loving orphan and his faithful friends to help save Christmas after the jolly old soul from the North Pole is stricken with a bad case of amnesia. Dejected after learning that the children of the world have lost the Christmas spirit, Santa and Paws travel to New York City on a mission to spread holiday cheer. But somewhere along the way, Old Saint Nick loses his memory. As the big day draws near, Paws befriends bright-eyed orphan Quinn (Kaitlyn Maher), her pal Will (Madison Pettis), and some rather extraordinary dogs. Perhaps together, they can help Santa to remember his mission, and make this Christmas the best ever.
Critic Reviews for Search for Santa Paws
Audience Reviews for Search for Santa Paws
½
A prequel to Santa Buddies without any of the buddies. So I guess it's kind of a spin-off too. We start in the North Pole, and it looks as crummy as before, but as Santa walks in, we see it's a different actor. Hallelujah! However, he may give an incredible performance when compared to the previous actor, but he looks so creepy. His face just has something sinister about it. We begin our story on Santa's birthday, and it's all downhill from there. This film is so dark and mature to begin with. Santa's birthday is interrupted by the announcement that his good friend has died. We are then introduced to a couple that reveal they are unable to have children. And then we go to an orphanage where the kids are mistreated. Once Santa arrives in New York, he is immediately hit by a taxi, loses his memory, and has his magic crystal stolen, while Santa Paws gets lost in the mean streets. I admit the first one was sickly cute, but this movie is rubbing shoulders with Requiem for a Dream in the depressing department. Of course all these plot threads come together eventually, and minus some garish musical numbers, it's done in a respectful manner. It's easy to care for these characters, and so I found that the Christmas spirit was earned rather than forced upon me. With so much darkness, I think this would be a great film for families to snuggle up with, as you can explain to your kids how horrible life can be sometimes.
Luke Baldock
Super Reviewer
Well, I usually like Disney stuff...but this movie was just plain silly. Not terrible, but I have seen much, much cuter films.
Cynthia S.
Super Reviewer
½
The little girl who plays Quinn is so adorable that it makes you want to stab your own eye and the Santa Paws dog looks like my dog and they are both so freaking cute, it incites more urges to stab yourself!!
Sarah Prisbylla
Super Reviewer
Search for Santa Paws Quotes
There are no approved quotes yet for this movie.