Secret Honor
(1984)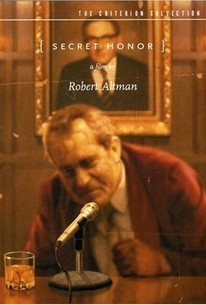 Movie Info
'Secret Honor' is a filmed version of Donald Freed and Arnold Stone's one-man play wherein the disgraced Richard M. Nixon ruminates over his failed career and suggests that he was really nothing more than the puppet of a sinister "committee" seeking global power.
News & Interviews for Secret Honor
Critic Reviews for Secret Honor
Audience Reviews for Secret Honor
½
The screenplay is undeniably compelling and Philip Baker Hall's performance is wonderfully manic.
Alec Barniskis
Super Reviewer
Altman returns to top form and delivers an amazing, tense and thrilling one man show. Phillip Baker Hall in his greatest role and Altman's camera does the rest.
Graham Jones
Super Reviewer
½
Robert Altman was a scientist. He was constantly exploring new ways to tell cinematic stories and "Secret Honor" was one of his most daring experiments. During the 1980s Altman was shunned from Hollywood due to his underperforming films. He spent the better part of the decade directing plays, teaching classes and recording theater. When he did make a film, it was usually with the same select few cast and crew he was repeatedly using. "Secret Honor," a one man film about a fictional hour and a half of Richard Nixon's life, was a result of one of these collaborations. "Secret Honor" was the final 'project,' so to speak, of one of his Chicago based film classes. Students filled in the positions of crew. Philip Baker Hall reprises his role from the play in the film. "Secret Honor" is a stream of conscious, fictional, portrayal of a historical figure in crisis. The structure can get tiresome, as with any single location film, but there are moments of brilliance. Baker Hall can be riveting and over the top in equal measure, much like Nixon himself. I also enjoyed that this, much like Oliver Stone's "W." was a balanced portrayal, both judgmental and sympathetic. "Secret Honor" is not a home run by any means. The film can drag due to the fact it's essentially an endless monologue but it's still well worth seeing. It's a claustrophobic, anxiety ridden experience that, love it or hate it, you will not likely forget.
Steven Carrier
Super Reviewer
Secret Honor Quotes
There are no approved quotes yet for this movie.