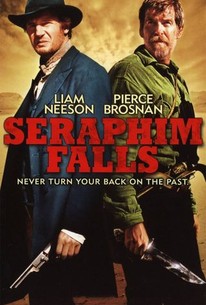 Seraphim Falls
2006, Western/Drama, 1h 55m
85 Reviews
10,000+ Ratings
What to know
Critics Consensus
A brutal, slow-moving drama that unfolds among some great-looking scenery. Read critic reviews
Where to watch
Rent/buy
Rent/buy
Rate And Review
Movie Info
Gideon (Pierce Brosnan), a former Union officer, finds himself the prey of a manhunt led by Carver (Liam Neeson), Gideon's Civil-War nemesis. Carver blames Gideon for a horrible war crime and refuses to give up the chase until his vengeance is complete. Gideon, though wounded, manages to stay one step ahead of his pursuers, until he and his mortal enemy meet in a final inevitable showdown.
News & Interviews for Seraphim Falls
Audience Reviews for Seraphim Falls
A good Western with excellent acting and story. I'm glad I found this film. I had never heard of it, but it's a gem of a film. Gotta love both Pierce Brosnan and Liam Neeson in the same film. They're awesome together. I would love to see them both starring opposite of each other again in the future.

There are certain roles in film, TV or theatre which are seemingly impossible for an actor to leave behind. Decades after Tom Baker hung up his scarf and handed in his jelly babies, people still think of him as Doctor Who. Jeremy Brett became so closely associated with Sherlock Holmes that he feared the character was encroaching on his personality, remarking just before his death that "it has all got too dangerous." While Pierce Brosnan has suffered no such torments after hanging up his tux, all his post-Bond leading roles have the feeling of a man trying very consciously to distance himself from his alter ego (and after Die Another Day, who could blame him?). His career choices have ranged from the brilliant (The Ghost Writer) to the curious (The Matador) to the downright toe-curling (Mamma Mia!). Seraphim Falls is another of his less successful ventures, being a good-looking but paper-thin Western which feels uncomfortable on the big screen. The relationship between TV and film is a hard one to plot, especially now that many TV shows have cinematic production values and often similar visual styles. It is a lot more common for actors to jump between different media than it was 30 or 40 years ago, and for directors to do the same. Paul McGuigan, for example, first made his name in film with Gangster No. 1, but is now best known for directing episodes of Sherlock. In the case of Seraphim Falls¸ however, it's very easy to separate the televisual elements from the cinematic, because there is almost nothing of the latter. David von Ancken is a television director, and it shows in nearly every aspect of the production. The film is televisual in nature, having the stakes and pacing of a TV episode but stretched out over an hour and forty minutes. At best you could describe the film as a feature-length pilot, or a compilation of episodes from a non-existent series. Put simply, there doesn't seem to be enough happening to fully warrant a feature. Many westerns sell themselves on their quiet, pensive, existential qualities. Many place an emphasis of the loneliness of the Wild West, with the coarseness of the landscape reflecting that of the people inhabiting it. If we were examining a Golden Age western, or something from Sergio Leone, this would all be well and good. But after the revisionism of Unforgiven, any new western has to be pretty special in either its story or themes to stand out - and Seraphim Falls simply isn't that remarkable. If you wanted to be glib, you could say the film is essentially The Fugitive relocated to the 1860s. It's a story of one man chasing another, with neither being particularly moral in behaviour or character, they run into a series of obstacles and/ or people, and when enough time has passed, they confront each other. But while The Fugitive made a decent fist of using the encounters to accumulate tension, this feels extremely episodic. The encounters with the thieves, the peddler, or the missionaries could happen in any order and it wouldn't change a thing. There's nothing wrong with having a straightforward story if there is thematic or emotional depth to back it up. Wim Wenders has made a career out of taking a simple premise or idea and drenching it in substance - just look at Kings of the Road or Wings of Desire. But here again, the film comes up short, having a number of potentially good ideas but not developing any of them. At best it falls into the same trap as Nixon, raising each idea in one scene and then not taking it further. At worst, it reduces these ideas to one throwaway line and prioritises momentum over insight. During the scene with the missionaries, Liam Neeson pours scorn on their beliefs, remarking to his men that they "will find no God here [in the wilderness]". This could be a jumping-on point for an examination of atheism, departing from the traditional trappings of Biblical revenge and judgement. But as soon as Neeson and his men have moved on, the film never raises it again, and the only effect is to make Neeson's character more unlikeable. We also come up short if we try to look at the film in terms of traditional western themes. The film understands that it is about revenge (as so many westerns are), but it never gets under the skin like No Country for Old Men or deconstructs the concept through brutality in the manner of Get Carter. You could argue for it as an anti-war film, taking place in the fallout of the American Civil War with old grudges being settled, but this too feels tacked on in the backstory and isn't turned into any kind of overarching theme. As for emotional depth, we have a number of wince-inducing moments intercut with long swathes of indifference. Brosnan comes out better than Neeson, particularly in the opening section where he has to dig out a shotgun pellet embedded in his arm, using a bowie knife to dig it out and then heating up the knife to cauterise the wound. In this moment we feel the pain of the character and get some idea of his precarious predicament, but moments like this come in fits and starts, and ultimately the film doesn't have much of an emotional arc. Our indifference towards Neeson's character is compounded by the scene in the log cabin. Brosnan leaves the cabin at first light, and a few hours later Neeson's men come looking for him, trash the place and attempt to rape the young woman to make her father talk. It is possible to make the audience care about an utterly loathsome character if we understand their motivations - for instance, Gene Hackman's character in Unforgiven. In order for us to stay with Carver in the face of such needless cruelty, we need an understanding of what is driving him - and we don't get nearly enough to justify any part of this really uncomfortable scene. Having stumbled from one episodic interaction to the next, Von Ancken then gives us not one, but two endings. The first ending is actually pretty decent, with the two men fighting in the middle of nowhere after the truth about Seraphim Falls has come to light. This showdown feels like the ending of Get Carter, with Carver standing in for Michael Caine and Gideon being the equivalent of Ian Hendry. We expect this to be the moment where the film really hits its stride, or at the very least ends on something of a high note. Unfortunately, well after the first ending should have ended, Seraphim Falls keeps going and becomes a little bit pretentious. The second ending feels like the film had realised it had nothing to say, and so the writers threw in a bunch of vaguely existential dialogue to compensate. The film tries to emulate Jim Jarmusch or Alejandro Jodorovsky, but the sudden gear shift into the surreal just doesn't work. Anjelica Huston is a welcome screen presence, but her character belongs in a completely different film. In the face of all this disappointment, there are a couple of good things about Seraphim Falls that should be emphasised. The film looks really good, particularly during its early sections in the Ruby Mountains. John Toll, who also shot Braveheart and The Thin Red Line, has a really good eye for breath-taking, forbidding landscapes, and his choice of colours is crisp and eye-catching (often more so than the characters). The production design in general is also verygood. The film doesn't use sound anything like as effectively as Leone, but the fight scenes feel brutal and realistic, particularly in the final showdown(s) between Carver and Gideon. The score by Harry Gregson-Williams doesn't get quite enough room to flourish, but when it does, it's very fitting and forbidding. And the flashback scenes are generally well-orchestrated, drawing heavily on Gladiator but still being reasonably memorable. Seraphim Falls is a largely forgettable western which is brought low by its televisual storytelling, low stakes and poor character dynamic. As inviting and professional as the film looks, its plot is far too episodic to sustain viewer attention; for every brief oasis of energy, there's a barren wasteland of 20 minutes through which the audience must trudge. No matter how hard Brosnan tries, the end result is dull and mediocre.

Really got a kick out of this moralist Western starring two Irish lads in a cross country chase for blood. The opening sequences are among the best ever filmed treating the sheer terror and adrenaline rush of an out-and-out chase, and are nearly silent the whole time, such is the high action quotient. Lots of beauty nature shots to offset the ugly of man stuff too. Limps a little at the end when its time for the moral but that's okay.

In a Post Civil War world where vengeance is the only way to gain revenge on wrong doing...it is truly interesting to see who wins in this particular tale of "survival of the fittest". Pistol Crackshot Carver (Liam Neeson) and his team of "bounty hunters" vs. Knife wielding Gideon (Pierce Brosnan) all by himself. The reason why the feud between the two will forever haunt you as you watch in anticipation as of how this ongoing battle between the two will eventually pan out. A good western from start to finish...with a few surprises. Consider viewing this it is different in almost every way!
See Details