The Seventh Continent (Der Siebente Kontinent)
(1989)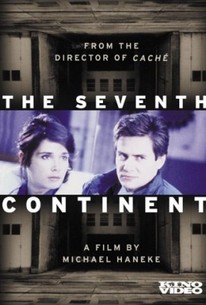 The Seventh Continent (Der Siebente Kontinent) Photos
Movie Info
Three members of a middle-class family are followed as their lifestyle slowly disintegrates. Nothing spectacular happens: it's just the dreary un-ending grind of a go-nowhere existence. The film's final scene emulates Fassbinder, as the threesome bid auf wiedersehn to everyone and everything in a gaudy, grotesque manner. It goes without saying that Der 7. Kontinent is not for everyone's taste. ~ Hal Erickson, Rovi
Rating:
NC17
Genre:
,
Directed By:
In Theaters:
On DVD:
Runtime:
Critic Reviews for The Seventh Continent (Der Siebente Kontinent)
Audience Reviews for The Seventh Continent (Der Siebente Kontinent)
easily a masterpiece directorial debut by artistic (meaning art house) standards: quality actors, however sterile and unspoken they are asked to perform; frankly realistic with a pragmatically surreal undercurrent, if that makes sense, like in haneke's other works. haneke as a latent auteur (this was released at age 47) but as a preemptively experienced movie critique sort of explains some of the sharp and unique directing choices. also intriguing a movie (if somewhat depressing and saddening) to look at, in terms of development of characters; and rather bleak, nihilistic, and philosophical, but no more than haneke's other similarly themed and clinically directed stuff.. saw it when i was relatively young and before it became more popularized (and written about) and had no idea what i had just watched. becomes more relevant and palpably cynical as you get older though, especially given the increasing sharing of (rapidly worn out) information, ways of life, and ideas in the modern world... or maybe just once you get a (humdrum or monotonous) job. fácilmente un debut tipo obra maestra bajo el estándar artístico (o sea películas del cine arte): con actores de calidad, aún si estéril y no tan habladores departe de los papeles protagonísticos; francamente realista con un trasfondo pragmático surrealista, si se le puede decir así, como en las otras obras de Haneke. Haneke siendo un autor de cine latente (esto fue lanzado a sus 47 años), pero también como un crítico cinemático con experiencia de forma preventiva explica más o menos algunas de las decisiones agudas y únicas bajo la dirección. También puede ser intrigante (aunque un poco deprimente y triste) a observar, cuando se trata del desarrollo de los personajes; y es más bien desolador, nihilista, y filosófico, pero no más que las otras pelis de Haneke con temas similares y con la misma dirección clínica por decir. lo vi cuando era un poco joven y antes de que se popularizara (y fuera escrito sobre) y no tenía ni idea de lo que acababa de terminar de ver. sin embargo, llega a ser más relevante y palpablemente cínica con madurez, especialmente dado el creciente intercambio de la información (rápidamente desgastada), las formas de vida, y de las ideas en el mundo moderno ... o quizá en cuento ya tengas jale (y se vuelve aburrido o monótono).
Ricardo Craneo
½
brutal. ok, no more reading of news, no more cynical op-eds, and no more films depicting banality and ennui. this entertainment masochism must come to an end. that includes you mets!
Seth Lachs
a really powerful debut and in a way haneke has been making the same point ever since (by the looks of his current film as well: will soon see!)
Stella Dallas
Super Reviewer
Discussion Forum
Discuss The Seventh Continent (Der Siebente Kontinent) on our Movie forum!
News & Features