Severed Ways: The Norse Discovery of America
(2009)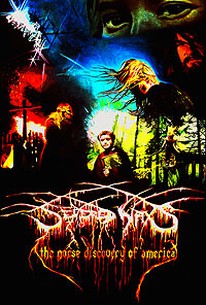 Severed Ways: The Norse Discovery of America Videos
Severed Ways: The Norse Discovery of America Photos
Movie Info
In the 11th century, Vikings, Indians, and Irish monks collide on the shores of North America in a historical epic adventure of exploration, personal glory, and religious dominance. Abandoned by a Western exploration party and stranded in the New World, two lone Vikings wade through a grand primeval landscape, struggling for survival while still in the grip of their Norse ways. An impressive DIY epic, "Severed Ways" features a frosty black-metal soundtrack, including Burzum, Morbid Angel, Judas Priest and Dimmu Borgir.
Rating:
NR
Genre:
, ,
Directed By:
Written By:
In Theaters:
On DVD:
Runtime:
Studio:
News & Interviews for Severed Ways: The Norse Discovery of America
Critic Reviews for Severed Ways: The Norse Discovery of America
Audience Reviews for Severed Ways: The Norse Discovery of America
½
Only three stars because 5 stars are reserved for EXCEPTIONAL Films only. Don't let the bad reviews fool you. It's a definite must see unless you have neither the patience nor the imagination to sit through an unconventional film. If so then you're not going to like this one. This is no Braveheart but it's entertaining nonetheless. Bear in mind this comes from someone who doesn't like plots spoon fed to him. Hats off to Mr. Stone for going out there and braving the wilderness both physically and artistically and bringing to life an almost science fictional account of a 1000 year old history. I would rather see this film than some big budget historical piece of the same genre. Brilliant story and photography. The dubbed dialogue was a disappointment as he clipped a couple of random lines from at least one Scandinavian film. Wish he would have asked me, I would have found him a better alternative. Don't stop making Films Mr. Stone! You're on the right course for sure!
Mark Blubaugh
I admit it, I rented this movie mainly due to the soundtrack. Although there isn't much Metal going on throughout the movie, the ambient score worked very well. Aside from the headbanging during a chapter introduction and some modern slang used in the subtitles, this movie shows the gritty survivalist nature of two vikings scouring the "new" land in hopes of finding a way back to their clan. It's not for everybody, duh. If you get bored easily or can't handle chickens being beheaded and disemboweled, fish being hunted and cooked, or a young Jerry Cantrell look-alike taking a very real shit in the woods then this is definitely not the movie for you. If, however, you want to learn a little bit about supposed viking history or if you want to see what you can accomplish with a digital camcorder, some costumes, and a weekend in the woods, this is absolutely a movie you must see.... well, rent. I can't really fathom many people owning this when one rental is really all you'll ever need.
Zombie Mario
½
In the 11th century the Vikings discovered America. The Vikings set foot on land and met the native Indians. The Vikings and the Indians started trading until one of the Indians was caught stealing a axe, and then a battle ensued with many Vikings and Indians dying, some of the Vikings escaped to their boats and went back to Greenland. There was 2 vikings who were sent out on a scouting mission before the vikings met the Indians. This is the story of those 2 vikings and their quest to survive and apparently walk back to Greenland. Good luck with that. This is a fictional story based off historical writings. This movie is in subtitles. If you dislike reading subtitles no worries as the movie has very little dialogue. Somethings that bothered me was between chapters you got short handfuls of heavy metal music, while it was not annoying, I prefer my music to fit the generation. Also the little dialogue that was used had lines like "This fish tastes killer" . When I was a kid killer was not even used in that context, I doubt that the Vikings used it in that context. The dialogue along with the music could of been better suited for the 11th century. I felt someone wrote this movie based off a idea and they had a ending in mind, then the rest of the movie was made up as they went along. There was not much of a story as it was basically 2 vikings surviving, you could say 1 of the characters was discovering himself in the story. I did not dislike the movie to the point where I was going to turn it off, but while watching the movie I did wish I had chosen several other movies to watch instead of Severed Ways. On the plus side the movie had beautiful scenery, but if I want to watch beautiful scenery there is plenty of National Geographic shows that would be more educational and just as enjoyable to watch than Severed Ways.
james osswald
Severed Ways: The Norse Discovery of America Quotes
There are no approved quotes yet for this movie.