Shaft in Africa
(1973)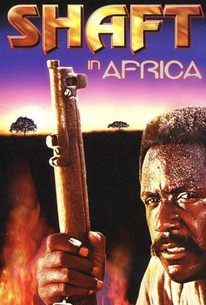 Movie Info
This is the third entry in the Shaft series. This time the tough New York gumshoe heads for the Dark Continent to expose a ring of modern-day slavers.
Audience Reviews for Shaft in Africa
In the third and last in the original Shaft (1971) series of action-packed "blaxploitation" pictures, private eye John Shaft (Richard Roundtree) travels to the "motherland," where he breaks up a modern slavery ring. Shaft is hired by a diplomat, Emir Ramila (Cy Grant), to infiltrate the criminal empire of the evil Vincent Amafi (Frank Finlay), who is kidnapping poor Africans and shipping them to Europe as slave laborers. Amafi murdered Ramila's son when he attempted to expose the illegal operation, and Ramila, now aware that his investigation of Amafi has been...
Mike Brady
The budget for the third and final Shaft film was even larger than before. As a result, a white director was brought in to handle things. That director was John Guillermin, the man responsible for the 1970s King Kong film. That was a disaster. This however, despite being a mixed bag, is halfway decent (all things considered). The plot concerns Shaft going to Africa to infiltrate a modern day slave cartel. It's an interesting idea filled with some good subtext and social issues. However (and this may or many not have to do with Guillermin being white), the film also comes across as rather pandering, racist, and offensive at times. The characters are caricatures and this film exemplifies the term "exploitation" in more ways than one. Taken as a genre film though, it's not too bad. As a regular movie, well, then we have problems. There's lots of good action scenes, and this is by far the most violent of the trilogy. The camera work is good, and so is the music. There's no sign of Isaac Hayes, but the theme song by the Four Tops rocks. It was later used in a brief segue scene in Superbad (when the guys travel across town on the bus to the liquor store). This film had the potential to be excellent both as a genre film, and as a movie with important themes and messages. It comes up short in both areas, but is still really damn fun and entertaining.
Chris Weber
Super Reviewer
Shafts third adventure and the plot wouldn't look out of place in a Tintin story, albeit with a much higher body count (if you're a baddy, you're gonna die. Soon). Plus a good ten minutes of gratutious nudity as Shaft gets his kit off to demonstrate his stick fighting skills . But despite these (because of these?) flaws, it's still one entertaining film, largely thanks to Richard Roundtree's natural on-screen charisma and a heap of pretty tunes from the Johnny Pate + The Temptations soundtrack.
Shaft in Africa Quotes
There are no approved quotes yet for this movie.
Discussion Forum
Discuss Shaft in Africa on our Movie forum!