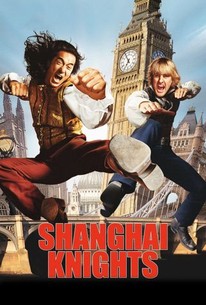 Shanghai Knights
2003, Comedy/Action, 1h 54m
150 Reviews
250,000+ Ratings
What to know
Critics Consensus
A silly, anachronistic mess, but the pairing of Chan and Wilson makes the movie fun. Read critic reviews
Where to watch
Rent/buy
Subscription
Buy
Rate And Review
Movie Info
After taming the wild west in the comedy "Shanghai Noon," Chon Wang (Jackie Chan) and Roy O'Bannon (Owen Wilson) are back in the saddle, but off the range -- this time, they're out to settle a score in civilized London in the sequel, "Shanghai Knights." When a Chinese rebel murders Chon's estranged father and escapes to England, Chon and Roy make their way to London with revenge on their minds.
Rating: PG-13 (Sexual Content|Action/Violence)

Genre: Comedy, Action

Original Language: English

Director: David Dobkin

Producer: Roger Birnbaum, Gary Barber, Jonathan Glickman

Writer: Alfred Gough, Miles Millar

Release Date (Theaters): wide

Release Date (Streaming):

Box Office (Gross USA): $60.5M

Runtime:

Distributor: Touchstone Pictures

Production Co: Spyglass Entertainment

Sound Mix: Dolby A, Dolby Stereo, DTS, SDDS, Surround, Dolby SR, Dolby Digital

Aspect Ratio: Scope (2.35:1)
News & Interviews for Shanghai Knights
Audience Reviews for Shanghai Knights
I never knew that Donnie Yen and Jackie Chan had ever appeared in the same movie together. Maybe they worked in the same movie when Donnie Yen was starting out, like Jackie Chan worked on some Bruce Lee films when he was just starting out in the kung fu film business. But as far as both being high-profile martial artists, this might have been their first interaction with each other. And it's shame that their fight scene doesn't really go on that long, since it was really good for how long it did last. And another thing, Donnie Yen's english is excellent. So much better than Jackie Chan's or Jet Li's, so it's kind of surprising that, again, he never really made the successful transition to the western market that Jet Li and Jackie Chan made. I will say that while I like Donnie Yen, a lot, I don't think he was as charismatic as Jackie Chan. Or even Jet Li. So he probably would've been stuck playing secondary roles, instead of lead ones. But that's about it on that end, this movie really is more of the same as Shanghai Noon. It's the same basic concept of the odd couple doing silly things that found Jackie a lot of success on the Rush Hour franchise and, as mentioned, Shanghai Noon. I don't wanna say it's the same movie, like Ride Along 2 was, because I felt that this was still better and more inspired than Ride Along 2, but the fact of the matter is that it isn't ever as fun as the first flick ended up being, a flick that I liked far more than what Jackie is most known for, at least in the U.S, and that's Rush Hour 1, 2 and 3. Though, to be fair, I haven't seen the first two RH movies in quite a while, so I'd need to revisit those films in order to be able to compare them. I do remember Rush Hour 3 kinda sucking, so I don't think I'd ever need, or want, to watch that flick again. But, really, Shanghai Knights ends up suffering from what this type of sequel usually suffers from. It repeats the same jokes as before with not nearly the same effect as in the first one. Some of them still work and I still think Jackie's team's fight choreography remains strong. Jackie has always liked involving props or objects in his fights and this one is no different. It's not even about the fighting at points, it's just about how can Jackie tie up different people in different ways or how he can beat them up with actually using his fists or feet. Either that or paying tribute to Singin' in the Rain with a sequence where the fight looks more like a dance, easily the highlight of the film. But there's also this weirdly audience-pandering segments, where they show like Jack the Ripper being murdered by Chon's sister. Or they have Sir Arthur Conan Doyle, when he was a detective, at least how this film tells it, as a character that helps out Chon and Roy in their quest. Or how Roy allows Arthur to use the Sherlock Holmes name for his new detective novel. Or Charlie Chaplin being the little street urchin that they come across several times. It's sort of like how Assassin's Creed, in a convoluted fashion, introduces real life people into their games. It's sort of like a 'oh, look at that' type thing. It doesn't really serve any purpose other than to make you think 'that's cool' and not cause it actually makes sense within the context of the film. There's also lines about how Roy invested in the Zeppelin and how he wouldn't invest in cars, because that's never gonna catch on. Again, those are just designed to get a reaction. It's an easy way to get a reaction, so I just found these to be really lazy attempts to pander to the audience instead of writing actual jokes. That really did end up hurting the movie quite a bit, which, while average, was somewhat fun thanks to Jackie's and Owen's chemistry. But this pandering really took a lot out of the movie. And, while I found the film to be well-paced, it also feels like it shouldn't have been as long as it was. We've already established the characters, just hit the ground running and have the film be over in 90-95 minutes, tops. That's really not the biggest complaint, which I have already mentioned, but it is worth mentioning. I guess I don't really have much else to say, if you liked Shanghai Noon, but weren't in love with it, then this won't really blow your mind. If you loved the first film, and want more of the same, then this is what the doctor ordered. Jackie and Owen are still fun together, but the movie is nothing more than average.

[img]http://images.rottentomatoes.com/images/user/icons/icon14.gif[/img]

suffering the sequel rule of throwing to much in. Wilson & Chan still have that spark that ignited the first film but the story is a let down. This should of been a lot better in its execution but in the end it works thanks to the two lead characters. If you enjoyed the first then you'll find something here

A tad disappointing but still good considering that Shanghai Noon was a lot of fun with great gags and action, this one is good but lacks the effectiveness of the first film. This sequel is still funny, with lots of good comic bits and the cast delivers. If you've enjoyed the first film, then you're sure to enjoy this film because of the fact that it kept most elements of the first film intact. Owen Wilson and Jackie Chan still have good chemistry and they are both very funny. As a sequel the film is pretty considering the fact that sequels are usually hit and miss. With Shanghai Knights, there's plenty to enjoy and is a good sequel that will most likely appeal to people who enjoyed the first. The film has effective comedy blended with good action that's really lots of fun. Shanghai Knights is a definite must see if you want something funny and entertaining. The best way you can view this film is pure entertainment. This is a film that really shouldn't be taken seriously, and despite the fact that it's imperfect, this is still very much a lot of fun from start to finish. Shanghai Knights is a good comedy that is supported by a good cast. I very much enjoyed the film, but is not as good as the first. However with every sequel that's to be expected. This is a fun film to watch, and like I said if you enjoyed the first, you're probably going to enjoy this one too. What made this film worth watching was the comedy that really stood out, and though not as good as the original, the film is still worth your time if you're in the mood for some silly entertainment.
See Details