Shanghai Triad (Yao a yao yao dao waipo qiao)
(1995)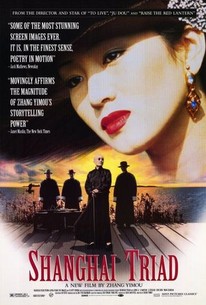 Shanghai Triad (Yao a yao yao dao waipo qiao) Photos
Movie Info
Country boy Shuisheng (Wang Xiaoxiao) is brought to 1930s Shanghai by his uncle who wants the boy to become a member of the powerful gang ruled by manipulative Tang (Li Baotian). In fact, Shuisheng will serve Tang's capricious mistress Bijou (Gong Li), a nightclub singer whom the boss proclaimed "the Queen of Shanghai." When the boy's uncle and the gang's several other members die during a rival gang's unsuccessful attempt on Tang's life, the latter retreats to a remote small island, taking both Bijou and Shuisheng with him and thinking of revenge. The film's English-language title is a little bit deceiving (the original Chinese title translates to "Row, Row, Row to Grandmother's Bridge," a line in Tang's favorite song performed by Bijou), as this drama centers more on the boy's coming of age and Bijou's disillusionment than on Shanghai gang wars.
News & Interviews for Shanghai Triad (Yao a yao yao dao waipo qiao)
Critic Reviews for Shanghai Triad (Yao a yao yao dao waipo qiao)
Audience Reviews for Shanghai Triad (Yao a yao yao dao waipo qiao)
½
Good movie, ending is horrible (as in, it's a horrible story - not bad). I don't generally watch mob movies, and I tend to associate that genre as Italian (probably incorrectly - so sue me, it's not a type of movie I generally seek out), so this Chinese movie set in the past was something different to me. The settings are beautiful as is the lead actress. Different to see through the eyes of a poor young boy sent to work for them. Felt so sorry for him, especially on that horrible ending. Poor kid.
Nicki Marie
Super Reviewer
Another great effort by Zhang Yimou. The greatest Asian mob movie that I have seen thus far. Very entertaining.
John Ballantine
Super Reviewer
A gangster flick in the eastern tradition,Yimou is not ashamed to produce vivid landscapes and some morbid ones in the first part.It's a mid-90's Yimou,compared to the heartless Hero and Curse of the Golden Flower,this one possesses a terrific strength/narration recent gangster flicks (in general) will never have.
Dimitris Springer
Super Reviewer
Shanghai Triad (Yao a yao yao dao waipo qiao) Quotes
There are no approved quotes yet for this movie.