San suk si gin (The Shinjuku Incident)
(2009)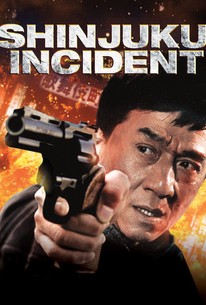 San suk si gin (The Shinjuku Incident) Photos
Movie Info
The Chinese migrant communities in Tokyo live shadowy lives. The Japanese neither acknowledge nor welcome them. They are shunned by the mainstream society, hounded by the yakuza, and go about their days under fear of being discovered and repatriated. It is an alien world for Nick (Jackie Chan), an honest and hardworking tractor repairman from northern China. Nick takes the perilous journey to Tokyo after losing contact with his girlfriend, Xiu Xiu (Xu Jing Lei), who months earlier had left China for Japan with hopes of a better life. Confused and out of place, Nick stays close to his brother Joe (Daniel Wu), who has already spent months learning life on the streets of Shinjuku. Trying to exist in the underbelly of Tokyo long enough to find Xiu Xiu, Nick has come to realize that the migrants must stand united if they are to go about their lives without fear of oppression by the Japanese underworld and the Chinese gangs that are growing in power. Making life even more complicated is the ever-present Inspector Kitano (Naoto Takenaka), who is trying to rid Japan of the crime figures. In his search of a decent living, Nick unwittingly finds himself pitted against the Japanese yakuza. Ironically, he also discovers that Xiu Xiu has adopted a Japanese identity and has married Eguchi (Masaya Kato), an ambitious up-and-coming yakuza chief. Nick wins the respect of his friends by establishing a base for them and forms an uneasy alliance with Eguchi. When he helps Eguchi dispose of a rival, he is given the control of Shinjuku's night establishments. With jobs now available for all of Nick's people, he is free to consider a new life path. Uninterested in living a gangster's life, Nick finds a new love and takes the chance to start a tractor repair business outside Tokyo. However, his peace is short-lived when he learns that his former compatriots are now being used by Eguchi to front the yakuza's drug business. Nick feels responsible for this turn of events and feels obligated to bring Eguchi down. He must do what is right, even though he knows that he will also be destroying whatever happiness Xiu Xiu has been able to find in this new city. It's not a question of right or wrong with shades of gray; the question is black and white. Can one simple Chinese migrant take on the yakuza alone?
Critic Reviews for San suk si gin (The Shinjuku Incident)
Audience Reviews for San suk si gin (The Shinjuku Incident)
An illegal Chinese immigrant organises his community and creates a gang who can stand up to the criminals who prey on them on the streets of Tokyo. Jackie Chan attempts a more serious role in this gritty crime drama in which his trademark slapstick comedy, acrobatics and crazy stunts are glaringly absent. Instead he plays an ordinary man turning to crime as his only escape from the poverty and prejudice that threatens to consume he and his friends. It has a much darker tone than his usual projects and is certainly the bloodiest Jackie Chan film I have ever seen, but at the same time he cannot help but overcook the more melodramatic aspects of the story and his need to play the hero means the script speedily glosses over his criminal activities which means his character does not quite ring true. It does have some decent action sequences however and Derek Yee has a nice eye for the underbelly of modern Asian society. An interesting departure for its normally more family-friendly star.
½
Shinjuku Incident is a Hong Kong crime thriller that isn't new to director Tung-Shing Yee. There is just nothing that stands out about it.
The story isn't anything special, despite the fact that there is some meat to it. Still, the pacing of this picture is slow to moderate and with a run time of just under 2 hours, this isn't exactly a fun sit through.
As with any other yakuza gangster type film, Shinjuku Incident has its fair share of violence and action. It comes in the form of typical beatings and gang clashes. This is NOT Jackie Chan martial arts and stunt work. This is far from it.
Jackie Chan is hit or miss in this film. He is OK when involved in the gangster activities and looking out for his friends. On the other hand, he disappoints when it comes to the love triangle storyline. In the meantime, Naoto Takenaka, Masaya Kato, and Fan Bingbing produce good supporting performances, while Daniel Wu goes through an interesting metamorphosis throughout the film.
Shinjuku Incident is a movie more for Hong Kong crime thrillers than Jackie Chan fanatics. Take a chance on it.
½
Great Jackie Chan crime drama movie that he gets to show off acting chops as well, with a few kicks and punches thrown in as well. That's what it is graphic brutal violence in some action scenes. The acting is above average. Chan delivers a standout performance, an illegal worker who tries to protect his kinsman by gaining respect by and protecting themselves from the Yakuza. Another great performance comes by Daniel Wu, a fellow immigrant who gets his innocence lost... the hard way. The two love interests and the detective also get props too.
Dean McKenna
Super Reviewer
San suk si gin (The Shinjuku Incident) Quotes
There are no approved quotes yet for this movie.