Sick: The Life and Death of Bob Flanagan, Supermasochist
(1997)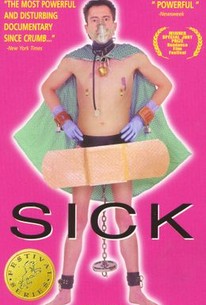 Sick: The Life and Death of Bob Flanagan, Supermasochist Photos
Movie Info
This documentary profiles poet/performance artist Bob Flanagan, who was born with cystic fibrosis. Flanagan explains, with engaging humor, how his obsession with controlled, self-inflicted pain has helped him to deal with his uncontrollable suffering. His philosophy forces one to look at sado-masochism with fresh eyes. The film includes explicit scenes of genital self-mutilation.
Critic Reviews for Sick: The Life and Death of Bob Flanagan, Supermasochist
Audience Reviews for Sick: The Life and Death of Bob Flanagan, Supermasochist
An extremely interesting artist who provides a deep glimpse into the nature of pain. He demonstrates, mostly with his body, the clear, yet often confounding, large gap between unwanted pain and consensual pain. If you've ever been intrigued, excited, or outright confused by masochism, let Bob give you a colorful education on the matter. Also worth noting is how impeccable director Kirby Dick is when it comes to picking subjects for his documentaries. This was his first international hit, and it is quite clear why it was so hailed, especially in the era before the internet where self-documented extreme masochistic acts were not a google search away or conveniently categorized on BMEzine..
_kelly .King
Super Reviewer
Supermasochist is right. Hard to watch, but worth the ride. You will most definitely squirm in your seat and cover your eyes saying 'Oh, my god'.
Insightful documentary on Bob Flanagan who fought cystic fribrosis by becoming a masochist. Not just any old masochist. No, he became a super masochist; doing to his body what few others had the desire to do, let alone the nerve. Introduced to most from NIN's "Happiness In Slavery" video, he's not just a pervert or a weirdo, but a person who has spent everyday facing his mortality and found a way to survive and to outlast an illness that should have killed him in his childhood.
El Hombre Invisible
Super Reviewer
Sick: The Life and Death of Bob Flanagan, Supermasochist Quotes
There are no approved quotes yet for this movie.