Skeleton Crew
(2009)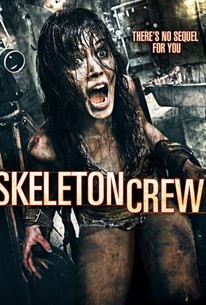 AUDIENCE SCORE
Critic Consensus: No consensus yet.
Movie Info
A horror film shoot in an abandoned mental hospital with a dark history turns terrifying after the cast and crew make a morbid discovery in the bowels of the dilapidated building. Back in the early 1970s, at a mental institution near the Russian border, a crazed doctor violated the Hippocratic Oath in the most repulsive manner imaginable. Consumed by murderous bloodlust, Dr. Andersson assumed the persona of "the Auteur," and began murdering his patients while filming the atrocities with his 8mm camera. Thirty years later, an American film crew has arrived at the hospital to shoot a horror film based on those awful events. The director, Steven, is determined to make the film as realistic as possible, a goal that doesn't seem too far-fetched when his Finnish sound men discover a hidden room in the hospital basement. There, perfectly preserved, are the original snuff films shot by "the Auteur" three decades prior. It's the perfect fodder for the must brutal horror film ever made, and Steven quickly sets about rewriting his script to make it as raw as possible. As Steven's obsession grows, his cast and crew begin to fear for his sanity. But this is only the beginning, because when Steven discovers actual 8mm camera used by "the Auteur" to capture his reprehensible crimes, he assumes the role of the murderous doctor and the real slaughter begins.
Critic Reviews for Skeleton Crew
There are no critic reviews yet for Skeleton Crew. Keep checking Rotten Tomatoes for updates!
Audience Reviews for Skeleton Crew
½
This was a pretty good film. I really liked the story to it. But the acting was a little bad, and there were some very unrealstic parts-like when a girl shot a man in the chest and he flew 20 feet in the air straight into a cabinet. But he got back up and shot the girl in the head...who was alive afterwards. There are a lot of things wrong with that scene, but overall it was a pretty good horror flick and I suggest you watching it.
Jacob Palacio
Super Reviewer
Some of the worst acting in recent horror, which is already a bar set so low that only champion limbo dancers can fit underneath. No scares, no brains, no good at all.
Doctor Strangeblog
Super Reviewer
Skeleton Crew Quotes
There are no approved quotes yet for this movie.