Sket
(2012)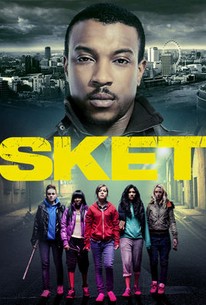 Movie Info
When a young woman is cruelly and indiscriminately attacked by a notorious gang led by the violent Trey, her little 16 year old sister Kayla wants revenge and will stop at nothing to get it, even if it means joining a rival girl gang led by the volatile and damaged man-hating Danielle.
Audience Reviews for Sket
It should have been me who killed him. A gang violently attacks a girl killing her. The girl's sixteen year old little sister wants revenge for the death of her sister and best friend and joins a ruthless female gang; however, even the ruthless female gang doesn't dare mess with the gang that killed the girl's sister. When the female gang sees the ruthless gang in action, and impacting some of their own, they may change their mind. "Still murking people?" "Still fucking them?" Nirpal Bhogal, director of episodes from the television series Misfits, delivers Skets in his directorial debut. The storyline for this picture is unique in the way it is told and is about a stray young lady and contains a sub plot of a female gang with nothing to lose. I did enjoy the concept and character development. The acting was also pretty good and the cast includes Lily Loveless, Riann Steele, Aimee Kelly, Emma Hartley-Miller, Richie Campbell, Ashley Walters, and Adelayo Adedayo. "You going to do something useful with yourself?" Sket is a movie I came across on Netflix that was recommended to me. The reviews were fairly high so I gave it a chance. I will say this is better than average and contains some unique qualities, but this is far from a classic for the genre. This is an interesting coming of age mixed with gangster film. I would watch this once but wouldn't add it to my DVD collection. "You fucking made me!" Grade: C+
Kevin Robbins
Sket Quotes
There are no approved quotes yet for this movie.
Discussion Forum
Discuss Sket on our Movie forum!