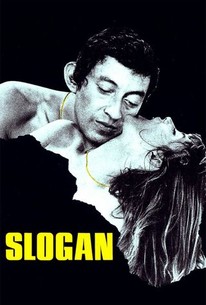 Slogan
1969, Comedy/Drama, 1h 30m
1 Reviews
100+ Ratings
Rate And Review
Movie Info
A successful adman (Serge Gainsbourg) cheats on his pregnant wife with an attractive British woman (Jane Birkin).
Audience Reviews for Slogan
Your reaction to "Slogan" will entirely depend on your degree of fascination with Serge Gainsbourg and Jane Birkin. There's really no other reason to see the film. Even a fondness for '60s French cinema hardly matters. It's fitting that Serge's character, Serge Faberge, shoots TV commercials. Because the whole movie is produced in that style. Daytime lighting, glamorous locations, romantic closeups and rapid cuts. And lots of fine dining. All that's missing is the perfume bottle. Faberge is an award-winning writer/director in the advertising racket, currently heading a campaign for a macho aftershave called Scar. He's comfortably married, but one woman is never enough for these charismatic European scoundrels. And once he glimpses skinny Evelyne (Birkin) in an elevator, he's hooked. He and his jaded wife edge toward divorce, while Evelyne's outgoing lover grumbles. Elsewhere, Evelyne's attentions also stray to a carefree hunk with a speedboat (a daredevil boat run through Venetian canals is the film's most entertaining scene). That's essentially the plot. Juliet Berto ("Celine and Julie Go Boating," multiple Jean-Luc Godard films) is wasted in a bit part as Serge's assistant, finding herself the victim of his mysterious talent for making things disappear with a finger snap. Serge vainly worries about growing too old for the young lasses, while Evelyne is prone to explosive crying fits that sometimes make sense and always stretch Birkin's weak dramatic skills. (Gainsbourg fares a little better as an actor, unsurprising since his public persona was generally such a contrivance.) Birkin was obviously cast for her beauty, since she had little film experience and didn't even speak French. But meeting her co-star led to a subsequent 11-year marriage. Naturally, Gainsbourg also composed the soundtrack, which mostly consists of frisky percussion grooves and varying instrumental takes on "La Chanson de Slogan" (eventually sung by him and Birkin over the closing credits). But what was the point of that car accident, beyond flaunting the makeup department's inability to create convincing bloody bandages?
See Details