Smash Palace
(1981)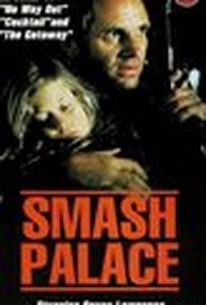 Movie Info
A key entry in the "renaissance" of the New Zealand film industry, Smash Palace stars Bruno Lawrence as an ex-racing champ. Returning home to take over his late father's business, Lawrence finds that his sophisticated European wife Anna Jemison is bored beyond measure at her new existence. She throws him over in favor of his best friend, policeman Keith Aberdein. Lawrence might have been able to weather his wife's leaving him, but it is too much to bear when she takes their daughter with her. Shoved over the edge, Lawrence kidnaps the child, precipitating a grueling cross-country chase. Co-written by star Bruno Lawrence, Smash Palace was garlanded with praise from some of the world's most influential film critics. It's not that good, but it certainly holds one's rapt attention from start to finish. ~ Hal Erickson, Rovi
Critic Reviews for Smash Palace
Audience Reviews for Smash Palace
½
In running the auto shop that his father owned before him, Al(Bruno Lawrence) and his French wife Jacqui(Anna Jemison) have their assigned tasks. She answers the phone while he goes out on calls. But socially their lives are more ambiguous which becomes clear when they need a babysitter for their seven-year old daughter Georgie(Greer Robson). So, Al stays home while Jacqui goes to a party and has to be driven home by Ray(Keith Aberdein), Al's best friend, when she has too much to drink. As domestic drama, "Smash Palace" has a few very familiar elements like Jacqui being lonely and needing somebody to talk to while all Al wants to do is race cars.(In fact, even on a limited budget, the racing scenes are finely handled.) But even as rough as it can be in spots, including one atrocious performance, the movie finds something unique to say in the way it presents this broken relationship where even the lovemaking has a desperate and violent feel. That's because Al and Jacqui have vastly different visions for how to raise their daughter who is caught in the mniddle and is probably going to use her future race car driving earnings for her huge psychotherapy bills.
I found this movie to be incredibly slow paced, confusing, downright boring, and every time it seemed like something exciting would happen, it wouldn't. At least not until the disappointing end of the movie. For the most part I couldn't understand what the actors were saying, whispering their lines in their New Zealand accents. For a movie that looks like an action flick on the box, it sure wasn't action packed, it was more of a drama film, and a boring one at that. I don't recommend this movie.
Smash Palace Quotes
There are no approved quotes yet for this movie.