Smithereens
(1982)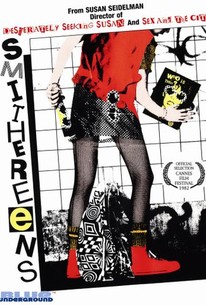 Movie Info
Written, produced, directed, and edited by Susan Seidelman in true student film fashion, Smithereens is the story of Wren (Susan Berman), an independent spirit from New Jersey trying to self-promote herself into the New York punk scene. She meets Paul (Brad Rijn), who ran away from Montana and lives out of his van in a parking lot. Paul seems to offer genuine friendship, however, Wren is only interested in forming meaningless relationships in hopes of bolstering her nonexistent career. She has no musical talents or industry skills, yet she aggressively pursues a pathetic spot for herself in places like the Peppermint Lounge. She drops Paul for Eric (Richard Hell, who also performs on the musical score), who has a record deal, and they work out a plan to escape to California, which requires Wren to pose as a prostitute in order to scam money from a prospective john. Things don't work out, and Wren finds herself hitting one wall after another, eventually getting kicked out of her apartment. With no place to go, Wren seeks out everyone she knows in the city, only to find herself left alone.
Critic Reviews for Smithereens
Audience Reviews for Smithereens
A worthwhile, if depressing, debut film from writer/director Susan Seidelman. Susan Berman (IMDB indicates she has just seven acting credits in her career, stretched across 25 years) plays Wren, a feisty, curly-haired scenester. She seems somewhat tied to New York club culture (the Peppermint Lounge is prominently used as a location), but has no real commitment to the music and people beyond how much she can exploit them for financial support. She has no income, drifts from friend to friend (whoever will take her) and unconvincingly lies about her homeless poverty. The heart of the plot is her pursuit of two men: a sweet newcomer from Montana who's living in his decrepit van (Brad Rinn) and a struggling rocker (real-life musician Richard Hell, who's quite solid as an actor). It's interesting to view "Smithereens" in the context of other early-'80s films about young, trendy women (including Seidelman's big-budget follow-up, "Desperately Seeking Susan"). Wren's initial entrance (confidently plastering flyers with her face around the subway) suggests a spunky, independent, charismatic John Hughes heroine. Someone we'll fall in love with. So, it's a disturbing twist to discover that she's basically, well, a jerk. The girl is going nowhere fast, and there's no reason for anyone to care. Underground legends the Feelies dominate the score, though two Hell songs appear too. A forgotten group called the Nitecaps also performs on camera. In the closing minutes, a young, skinny Chris Noth appears for a split-second as a transvestite hooker.
Eric Broome
Super Reviewer
The main character of this movie reminds me of the main character of Cabaret, they're both self destructive women looking for love in the wrong places. The whole movie, especially the end, is really sad, but inevitable. This movie doesn't get very far into exploring this character, it just kinda lingers. It's not bad, though, it's just okay.
Smithereens Quotes
There are no approved quotes yet for this movie.