Snowden
(2016)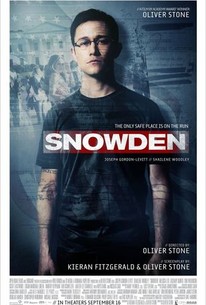 TOMATOMETER
AUDIENCE SCORE
Critic Consensus: Snowden boasts a thrilling fact-based tale and a solid lead performance from Joseph Gordon-Levitt, even if director Oliver Stone saps the story of some of its impact by playing it safe.
Movie Info
Academy Award (R)-winning director Oliver Stone, who brought Platoon, Born on the Fourth of July, Wall Street and JFK to the big screen, tackles the most important and fascinating true story of the 21st century. Snowden, the politically-charged, pulse-pounding thriller starring Joseph Gordon-Levitt and Shailene Woodley, reveals the incredible untold personal story of Edward Snowden, the polarizing figure who exposed shocking illegal surveillance activities by the NSA and became one of the most wanted men in the world. He is considered a hero by some, and a traitor by others. No matter which you believe, the epic story of why he did it, who he left behind, and how he pulled it off makes for one of the most compelling films of the year.
News & Interviews for Snowden
Critic Reviews for Snowden
Audience Reviews for Snowden
½
Despite some clichés and not being provocative enough for an Oliver Stone movie, this is a solid companion piece to Citizenfour with a great cinematography and editing - and Gordon-Levitt does an impressive job in mimicking the real Snowden's body language and even voice.
Carlos Magalhães
Super Reviewer
½
There's quite a difference when director Oliver Stone actually gives a damn with a movie, and you can tell with Snowden that he is passionate about making a compelling and accessible movie for American audiences to understand why they should be angry. He wants to lead the righteous civil liberties mob against the right perpetrators while providing an appreciative moral context to the actions of Edward Snowden, America's most famous fugitive. That sense of purpose and drive animates Stone in a way that his recent films have not, and even though it's far less gonzo and experimental as Stone's quintessential catalogue, the storytelling skill is still consistently engaging and the resulting 134 minutes inform as well as entertain. Edward Snowden (Joseph Gordon-Levitt) wanted to serve his country and his expertise in computers landed him in various jobs working for U.S. agencies. He discovered the abuse of surveillance over everyday citizens rubberstamped by a FISA court meant to provide oversight. Callous private contractors would surf through thousands of collected data points, and if pressed, could justify through terrorism connections, as it seems anyone in the world is perhaps three connections away from a person of interest (consider is the really unfortunate version of the Kevin Bacon game). Snowden risks everything to reach out to a team of journalists (Zachary Quinto, Melissa Leo, Tom Wilkinson) to tell his story and make sure the larger public will know these abuses of power. The best compliment I can give Stone as a screenwriter and director of Snowden is that he took a thoroughly challenging scenario with few cut-and-dry answers and made an accessible movie experience that effectively conveys moral outrage and dismay. It feels like Stone the educator is leading you by the hand, taking time out to explain some of the more delicate intricacies of the murky stuff that goes on behind closed doors. I won't exactly declare it to be an intelligent examination on the moral implications of the material, but it's certainly a movie that lands its goal of clarity. It produces a sense of clarity for the subject and a sense of clarity for why Snowden made the decisions he did. Gordon-Levitt delivers a steadily engrossing performance, even if it takes several minutes to adjust to his distracting speaking voice. Maybe my ears are just broken but it doesn't sound like Snowden. Fortunately, my ears did adjust accordingly. Gordon-Levitt and Stone effectively kept my attention throughout the film. I was surprised how much I found myself enjoying long stretches of this movie, even if my own stance on Snowden is less clearly defined. He talks a good talk but the reality is messy. Given Stone's conspiratorial history, the plot definitely comes with a distinctive point of view over whether Snowden is a hero or a traitor. I don't think inherent bias in a movie or the angle taken in storytelling is inherently misguided and that all stories should be as objective as possible. Sometimes the circumstances don't permit objectivity. Stone's film is clearly biased but it doesn't fall into a hagiographical hero worship of its titular figure. This is a complicated subject and deserves a proper analysis to place the real-life people in the meaningful morally ambiguous context. Snowden ultimately makes the decision to become the world's most famous whistleblower for what he felt were systematic abuses of government surveillance, but before that climactic decision he comes across less than a spotless martyr. His character arc is a fairly recognizable awakening of alarm and horror at the great abuses of power in the name of security. He does start off as a lifelong Republican with family members who have served in the military and different governmental bodies. He's devastated to be medically discharged from the Army and hungry to serve his country. He's a patriot who becomes disillusioned with the system, but he's also rather self-involved and excuses ego with civic duty. I didn't know how gifted Snowden was in his field, and the movie has some amusement with the wunderkind training sequences where Snowden delivers shock and awe to his stunned superiors. However, the second act becomes more than a bit protracted because Snowden keeps quitting but eventually going back to government surveillance, whether CIA or private subcontracting. This is because of the pay, sure, but it's mainly because nobody can do what he can do. He feels important. He feels needed. He convinces himself he's making a difference in the War on Terror, but eventually the reality of the widening peripheral of the war zone is too much to ignore for him. This is further epitomized through the romantic subplot with Lindsay Mills (Shailene Woodley), a liberal firebrand, photographer, and exotic exercise instructor. Woodley (The Fault in Our Stars) does her best infusing a warm personality into what is too often the underappreciated yet overly agreeable girlfriend role. It's a storyline meant to further humanize Snowden as well as personalize the encroaching invasions of privacy and subsequent paranoia. After he discovers that the government can activate laptops and watch oblivious citizens through webcams, Snowden can't help but stare down his open laptop during an almost laughably forced sex scene. My reaction as Lindsay climbed aboard Snowden was exactly this: "Oh, I guess this is happening now." She would have a greater impact if the movie did more with her character, as she is the long-suffering girlfriend who keeps accommodating his life choices. They move three times across the country for his jobs and Snowden is always unable to fully explain why he feels the pull to these tech occupations, which further frustrates a woman who just wants trust. There is one interesting conversation that Lindsay offers, typifying the blasé response to spying with a "well I have nothing to hide, so who cares" rationale. Snowden is quick to admonish this line of thinking, an opinion that many still share. The other regrettable reality is that the romance is inevitably going to be the least interesting facet of this story. By going behind the curtain of American secret surveillance, we're indulging in our collective curiosity at how exactly all these moving parts operate. To then go home and watch a couple squabble is a consistent letdown of drama. There are a few other artistic miscues that weigh down Snowden, mostly Stone's penchant for heavy-handed symbolism. The same instincts that allow Stone to carefully thread a knotty story are the same impulses that tell him that subtlety is for cowards. There doesn't need to be a frame story here. I understand that select media outlets trying to break this story naturally allows for a question-and-answer framing system of flashbacks. However, very little is added besides a skeletal structure. The media members act as reactionary acolytes. It was all captured much more credibly in the Oscar-winning documentary, Citizenfour. There's no earthly reason for Nicolas Cage to be in this movie except for drawing financing. He plays an old CIA code-breaker and admirer of outdated technology, but really he's there to serve as an institutional nod to Snowden. At the conclusion, when Snowden's identity and message becomes public, there's a scene where Cage's character literally toasts his pupil's actions. I would say it's a bit much but the character is a bit much for an actor that hasn't generally been known for restraint. When Snowden is leaving the CIA offices in Hawaii for the last time, he steps out into the light (get it? get it?) and the scene is practically rendered in slow motion as the enveloping white light fills the screen and bathes Snowden (get it? get it?). He smiles bigger than we've ever seen. Lastly, Stone can't just help himself during the very end and has Gordon-Levitt replaced with the actual Edward Snowden to deliver the closure of an interview. I don't think we needed a reminder that Snowden is an actual living person. Snowden the man, and Snowden the movie, wanted to shake up an ignorant and apathetic American public about the dangers of unchecked power in a surveillance state, but was the mission a qualified success? Years later and Snowden living in exile in Russia, the charitable answer would be inconclusive, though the pessimist in goes further. It very well seems that the majority of the American public simply doesn't care (out of sight out of mind). The trial over whether Snowden is a patriot or a traitor seems a little moot perhaps when the larger public shrugs at the revelations of security overreach. Does a movie about a Great Man have as much resonant cultural cache if that defining act of greatness produces a shrug? I'm by no means saying we should apply a polling system to accurately measure a person's value and accomplishments to the larger cultural and political landscape. Snowden wanted to wake the public up but we hit the snooze button. In the meantime, the movie about his exploits is fairly entertaining, so at least he has that. Nate's Grade: B
Nate Zoebl
Super Reviewer
THE SPY WHO WENT INTO THE COLD - My Review of SNOWDEN (3 Stars) Has Oliver Stone become a humanistic filmmaker? If so, is that a good thing? Those are the questions I kept asking myself while watching his latest film, SNOWDEN, the biopic starring Joseph Gordon-Levitt as the former CIA communications expert turned NSA computer expert turned whistleblower who exposed government surveillance operations that monitor all of our keystrokes, conversations and GPS locations. Some have called Snowden a hero, while others think of him as a traitor, a dissident, or even a spy for the Russians. Clearly, Stone's version of events, along with co-screenwriter Kieran Fitzgerald, paints him as the former, which is certainly a valid point of view, but one that slightly robs the film of its greater social context. Many of Stone's prior films, especially NATURAL BORN KILLERS, demonstrated an impatience with standard storytelling techniques to the point where you wished he would slow things down to at least Michael Bay levels. With SNOWDEN, he's so subdued, it would be easy to mistake this film as one directed by [insert faceless studio hack here], were it not for the passion he shows for his subject. Levitt seems to be trying on accents lately with his wild French accent in THE WALK to his flat, hardened North Carolina pronunciations in SNOWDEN. It makes him compelling to watch and grounds the movie with a character whose demeanor I don't think I've ever quite seen depicted before. Lacking that big showy Oscar bait scene feels like a good thing, as Snowden approaches TALENTED MR. RIPLEY levels of detachment. It's a strong, unfussy performance and one that succeeds in conveying ambiguity as to the righteousness of his decisions. A couple of sequences stand out in the film allowing Stone to reach Danny Boyle-level heights of cinematic expression. One is a Skype call between Snowden and his CIA mentor (Rhys Ifans). It's a tense, creepy showdown made even more compelling by choosing to project Ifans' image against a wall to convey his utter dominance over Snowden. Ifans does great work in this film in a role typically reserved for Donald Sutherland. He's a character who seems to always be one step ahead of his charge until, well, he isn't. It's a fascinating arc to watch. Another is the scene in which Snowden smuggles out his information inside a Rubik's Cube. While we don't know for sure if this scene actually happened, it's such an absurdly perfect and simple way to steal the biggest government secrets since Watergate. Performances are good across the board, including a fun cameo by Nicholas Cage, Shailene Woodley as Snowden's long-suffering girlfriend, and especially Ben Schnetzer as one of Snowden's colleagues. Schnetzer, you may recall, starred in PRIDE as the main activist with an accent so convincing you would never guess he's from New York. Here, he transforms himself into a skater dude computer whiz and brings such a fun energy to his scenes. Keep your eye on this actor as I think he's seriously one to watch. One big quibble is that Stone robs Levitt of a big moment by choosing to use the real Snowden instead. Sure, it's been done before, especially in biopics. Think the real Tina Turner appearing in the end credits of WHAT'S LOVE GOT TO DO WITH IT or Sully Sullenberger doing the same at the end of SULLY. But here's the catch - Snowden isn't appearing as himself in some archival footage. It's him reciting dramatic lines at a key moment that would have been better suited to a real actor, like, I don't know, perhaps the real actor hired for the part? I wouldn't have minded seeing a documentary interview of Snowden in the final credits, but this scene happens before that and dilutes the impact somewhat. It's a strange miscalculation on Stone's part. On a more global level, it was tough for me to watch this film and not think what someone like Martin Scorsese would have done with the subject. I think of that great final shot in CASINO, where we dissolve from our main story to a shot of modern day Las Vegas tourists waddling down a staircase to enter a casino. The entire dramatic story of that film got reduced to demonstrate where all of those big dreams led....to just another capitalist venture to kill the average person's boredom. My gut tells me Scorsese would have contextualized SNOWDEN more than Stone by showing young millennials at the end tweeting their hearts out and exposing every minute of their lives on Facebook and Snapchat. Snowden ay have blown the lid off of government surveillance, but more and more, I'm convinced that most people just don't care. When everyone is already documenting their lives, who cares if Big Brother is listening?
Glenn Gaylord
Super Reviewer
Snowden Quotes
There are no approved quotes yet for this movie.
Discussion Forum
Discuss Snowden on our Movie forum!