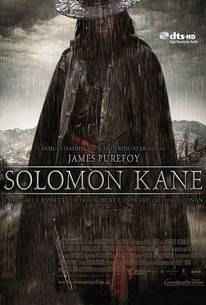 Solomon Kane
2009, Adventure/Fantasy, 1h 44m
49 Reviews
25,000+ Ratings
What to know
critics consensus
Solomon Kane's formulaic and bleak narrative is overcome by an entertaining, straightforward adherence to its genre, exciting gore, and a gratifying lead performance by James Purefoy. Read critic reviews
Rate And Review
Movie Info
A man (James Purefoy) must renounce his newly taken vows of peace to rescue a young woman (Rachel Hurd-Wood) from an evil sorcerer (Jason Flemyng).
News & Interviews for Solomon Kane
Audience Reviews for Solomon Kane
the Son of Sparda vs. the other Son of Sparda excepting you don't get to mash buttons

Solomon Kane is, to be sure, a dumb, often profoundly silly, B action horror film in the vein of Season of the Witch. Its' plot and resulting resolution are telegraphed too early, the mechanisms cliched, and the action often cheesy. Yet for all the camp, there's a heart to Solomon Kane that suggests there's elements of a compelling film at play, if not always completely visible. What I appreciated the most about Solomon Kane is the title character, Solomon Kane. His gruff and beyond-redemption character is familiar, yet James Purefoy does enough to give his role a texture not seen in other similar characterizations. His complexity is seen in his performance, and felt in the material. He's a protagonist that is not completely likable at first, yet one that feels strangely enthralling. The film also has a brisk pace, and solid world building. We see an Elizabethan-England that is plagued by witchcraft and death, with a dark foreboding throughout. The performances all around, though never great, are always serviceable. The action is corny but prevalent, and director Michael Bassett manages to bring enough to the table to keep the otherwise familiar material fresh. At the same time, Solomon Kane is full of imperfections. The CGI looks cheap, and film has real issues with its tone. At times it has an atmospheric tone that feels well realized, but then suddenly shifts to such silly plot devices, that what came before it is undermined. It's as if the film wanted the weight of a foreboding tone, but the likability of high camp. The script does nothing especially memorable, with a very lackluster third act. Overall, it's an enjoyable enough B action film, with potential to have been more. 3/5 Stars

Just about everything onscreen makes little to no sense, and while that's entertaining for the first hour, everything kind of falls apart when it turns into a series of repetitive action sequences. Also, I was unaware that an evil sorcerer was behind everything until he suddenly showed up five minutes before the movie ended.

It started out with some promise, with decent performance by Peter Postlethwaite (I hope for posterity, this wasn't his last film!), but it devolved into an incomprehensible slurry at the end with bigger holes in the plot than had the Titanic. The costumes and special effects were commendable -- but what really was the point of it all?
See Details